While not tied into any specific "Apes" movie, Crisis on the Planet of the Apes sounds pretty great. The game puts gamers in the fur of an intelligent ape, fighting his way to freedom.
A planet… of apes
Crisis on the Planet of the Apes VR introduces an innovative set of motion mechanics in VR. For the first time, players are able to feel the strength and vigour of an Ape with every movement, from running, climbing and moving to cover, as they confront humans in an effort to survive. Moving as an Ape, players will come into contact with other survivors, humans and fellow Apes alike, who have spent the last five years navigating a global catastrophe, as the world they knew came crashing down.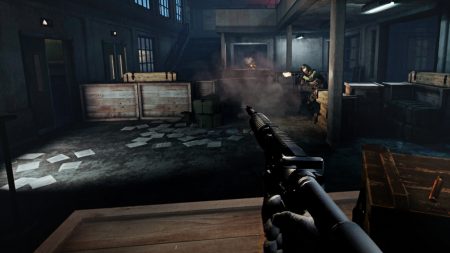 A first-person title, Crisis will have you climbing, jumping, and fighting your way across a detention human-held facility. And all of the above will be in virtual reality too. That means you'll be immersed in the Apes' fictional world for the first time. There have also not been a ton of Apes games… pretty much ever, so this one's particularly cool.
From the press release though, it doesn't sound as if you can play Crisis without a VR helmet. So if you want to play, you're going to have to get ahold of a PSVR for the PS4, or an HTC Vive or Oculus Rift on the PC.
Look for Crisis on the Planet of the Apes is available right now for all three platforms.