Did you skip out on one of the best Hitman titles in years when it launched episodically a while back? Well now it's combined in one pack and has a whole mess of DLC added in for good measure.
Definitive
"We're very excited to be working with IO Interactive, a talented studio with a long-standing legacy creating the iconic HITMAN™ games," said David Haddad, President, Warner Bros. Interactive Entertainment. "The passionate, global HITMAN™ community has embraced the recent return of the series, and we're thrilled to bring the HITMAN™: Definitive Edition to fans and new players next month."
Thats' right, while Hitman was technically an indie title solely from IO Interactive, Warner Bros will be publishing the Definitive Edition of the game. That's a good omen, nut just for this release, bu moving forward. It might mean that retail editions of the developer's titles will have an easier track to stores. That could only be a good thing, especially since IO produced one heck of a game with its latest Hitman.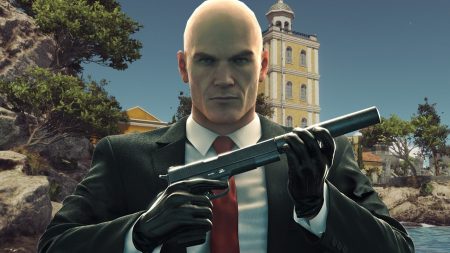 As for this particular launch, there's a lot in this tidy little pack.
Here's what you get:
IO Interactive's 20th Anniversary Outfit Bundle – Three new outfits inspired by Freedom Fighters, Kane & Lynch and Mini Ninjas
HITMAN™ Season One (Main Game) – Seven exotic locations from the first season, including Paris, Sapienza, Marrakesh, Bangkok, Colorado and Hokkaido, along with the ICA Facility
HITMAN™ Game of the Year Edition Content – Four missions from the Patient Zero Campaign, three themed Escalation Contracts that unlock three unique weapons, as well as the Clown Suit, Cowboy Suit and Raven Suit from the recent Game of the Year digital release
HITMAN™ Summer Bonus Episode – Featuring ICA bonus missions in Sapienza and Marrakesh
HITMAN™: Blood Money Requiem Pack – Including the Requiem Suit, Pale Duck Explosive and ICA Chrome Pistol
All featured Contracts, Escalation Contracts, Challenge Packs and game updates from HITMAN™ Season One and the HITMAN™ Game of the Year Edition
Note too, that some of the above will require a download. It'll be kind of sizable too. Warners says to look for content in the 12 to 24 gig range. The size of the download is depending on which console you get the game for.
Hitman: Definitive Edition hits on May the 18th for the Xbox One and PS4. And of course, it'll be enhanced for both platforms more powerful, later-gen revisions.