The fallout from DC's Metal event will indeed be pretty far-reaching, as the publisher has announced a pair of new Justice League books. But that's not all, as changes are afoot for Teen Titans as well.
No Justice
We're not going to be handing out any spoilers here as to the end of Metal, but it was kind of a big deal. The event book spun out of the mind of writer Scott Snyder and was a major shakeup for DC as to its "multiverse". It opened the door to a whole new branch of universes to explore, most of them being not so nice.
But while Metal in the rearview mirror, No Justice is laid out squarely in front of us.
The upcoming mini-series will ship in four parts, and expand on the events of Metal. Snyder will also be helming that book, along with the writing team of James Tynion IV and Joshua Williamson, and artist Francis Manapul. As for the standard Justice League book, that'll keep on keeping on with Snyder too, as well as Jim Cheung and Jorge Jimenez. That's a lot of Snyder, and that's just fine with me. I assume it's fine with the DC fanbase as well, since he's far and away one of the best scribes in comics today.
Things don't stop there though, as Justice League Dark will be getting a relaunch as well.
This time, the supernaturally-themed League will be stocked with a creative team that includes the aforementioned Tynion and artist Alvaro Martinez. It's a very interesting roster change as well, with Wonder Woman, Manbat (!), Zatanna, Swamp Thing, and Detective Chimp all making the team. Seems like Diana will be pulling double duty there, as she's pretty clearly in the new staple JL book too.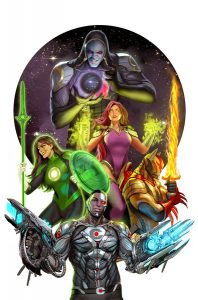 Along with Dark, there will also be a brand new, never before seen Justice League title launching with Odyssey. That book has already stirred a good deal of controversy, as the team will apparently include Darkseid on its roster. Not too sure how that's going to work.
Watch for it and Dark to hit this June. It'll be written by Joshua Williamson with artist Stjepan Sejic.
I mentioned Teen Titans as well, and there is some news to report on that front too. Television writer Adam Glass is making the jump to comics with the book, and will be joined by Bernard Chang.
There will also be a fresh lineup for the team-series with (Damien Wayne) Robin leading a group that'll consist of Red Arrow, Kid Flash and a few newcomers that have yet to be announced. We do know one of those newbies though; it will be Lobo's daughter. Just let that sink in for a second…
Lots of stuff there to digest actually, and most of it pretty cool sounding. It should be a good year for the DCU. Look for No Justice this May, with Justice League Dark, Justice League Odyssey, and Teen Titans all launching in June.