Marvels' newest big time movie star is finally here for pre-order. Log onto the company's online store now and add the Black Panther to your collection.
The King is here
The latest Marvel hero to hit the big screen is also Mezco's latest One:12 Collective figure to hit pre-order. It's T'Challa himself – the Black Panther. With a suit styled after the movie costume, and an alternate head sculpted to resemble actor Chadwick Boseman, the Panther is ready to joint your One:12 shelf.
In addition to the above, Panther also comes with a few choice accessories. That selection includes a shield and spear, like the ones seen in the film. You can expect the Panther to start shipping out later this year, in the August to October time frame.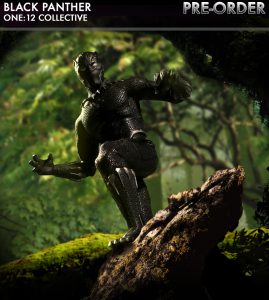 The One:12 Collective black panther figure features:
One:12 Collective body with over 30 points of articulation
Two (2) head portraits

Masked head
Unmasked head

Hand painted authentic detailing
Approximately 17cm tall
Eight (8) interchangeable hands

One (1) pair of fists (L&R)
One (1) pair of holding hands (L&R)
Two (2) pairs posing hands (L&R)
COSTUME:
Film-accurate masked head
Unmasked head featuring the likeness of actor Chadwick Boseman
Intricately detailed cowl
Authentically designed gauntlets
Impeccable belt detailing
Skillfully executed boots
ACCESSORIES:
One (1) shield
One (1) spear