Sega's Sonic the Hedgehog is back on the printed page thanks to publisher IDW. The new series launches this spring.
SEGA!
This is a pretty interesting launch strategy that IDW has cooked up for its Sonic the Hedgehog book. Yes, this is set to be a monthly title, but it's not going to start that way. Sonic will instead launch with four issues in the month of April.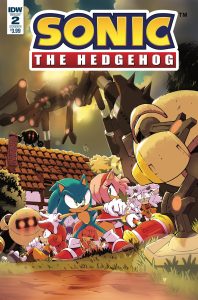 And these issues will be loaded with series faves, and a brand new character.
Each issue in April will feature Sonic teaming up with a different ally: Tails, Amy Rose, Knuckles the Echidna, plus the introduction of a brand new character, Tangle, who will make her debut in Sonic the Hedgehog #4.
On the creative side of things, Ian Flynn will be crafting these tales. If that name sounds familiar, it's because he's no stranger to Sonic and has worked on more than a few Blue Blur stories over the years. According to IDW, he's made a hefty contribution to the mythos of the mascot. So it's a very nice thing to see him healing this book.
Artists? Yep, there'll be a different one for every issue in April. The first will be Tracy Yardley. She'll be followed by Adam Bryce Thomas, Jennifer Hernandez, and lastly Evan Stanley. Covers will be handled by Tyson Hesse, though there'll be a few variants too. Expect to see those from the likes of Nathalie Fourdraine, Rafa Knight, Jamal Peppers, Jonathan Gray, and "Sonic Mania artist" Kieran Gates.
Watch for issues #1-4, with one hitting every Wednesday the April, before the series goes monthly right after.