Ninjak, Tama, Shadowman and Punk Mambo have come face to face with Babel amidst an endless battle. What will it take for these heroes to save the world? Check out Rapture #2.
If you missed our coverage of #1, you can find that here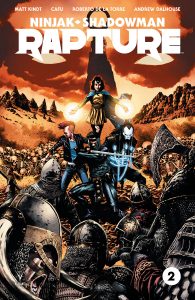 A Great Conflict
Amidst the great plains of the Deadside, exists a great war between good and evil. Tama's friend Rex the Razer leads one side, while Babel has taken control of the other side. Rex is incredible. Stories worldwide have been told, based on his likeness. He has done formidable things, but the sands of time are beginning to take their toll on him.
Across the battlefield stands Babel: a mysterious, corrupt sorcerer, with four arms, glowing red eyes, and powers of unknowable terror. He is the being that has entities from both Heaven and Hell in doubt. Apocalypse is coming, and what it will bring is anyone's guess.
Rex is greatly outnumbered, though gives no quarter to such an idea. He believes he can save the entirety of humanity. Though Tama and her friends have come to lend their aid, whether or not Rex understands it, or wants it. Punk abducts Rex, so they can formulate a plan of attack. Ninjak seeks Logic, while Rex and Punk inform him on the existence of Magic in the realm.
A History
Treated to a history of Rex's existence athrone the tower of Babel, we see how the sorcerer was able to free himelf from ancient bonds. The dark sorcerer used the feeble minds of lesser beings to spread the word of his plan. He taught these beings of his dark magics, of killing magics, as he regained his own dark powers. Rex's own love, as well as his kingdom fell to the powers of these dark students, and cemented his hatred for the sorcerer.
Things are moving along with the plan, when they sense trouble. Ninjak's tech and Punk's Voodoo are able to subdue the attacker, the distraction that he was. Shadowman was taken amidst the confusion.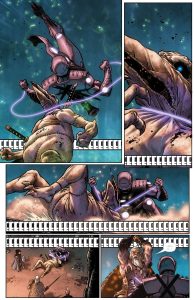 Babel's Plan
The subdued bereaver chooses to speak in order to save his hide, while admitting that the sorcerer's plan has already begun. Babel has recruited power from the undergods, and requires Shadowman's Loa as well. Learning where to find the undergods, Ninjak and company seek to stop them from powering the destruction of the world.
As any evildoer does, Babel explains his plan to his captive Shadowman. Babel is familiar with Loa, like his. He believes that beings of his power should be able to travel to both the Deadside and Liveside. Claiming he can relieve the burden of Shadowman's Loa, he requests his aid.
Thoughts
Will Shadowman succomb to Babel's requests, and aid in the destruction of the world? Or will he recognize that his burden is his, not to place such recklessness in the hands of such a madman. Ninjak and Shadowman have put down Babel's builders, but do they have what it takes to face the sorcerer himself? Is Punk Mambo a secret weapon of sorts for them? I can't wait to continue the epic tale of the Rapture!
Rapture #2(Comic) Review
Story: Matt Kindt
Art: Cafu with Roberto De La Torre
Colors: Andrew Dalhouse
Letters: Dave Sharpe
A. Editor: Charlotte Greenbaum
Editor: Warren Simons
Covers: Mico Suayan and Brian Reber, J.G. Jones, Kano, Clayton Crain
Deadside Vs Lifeside
Plot - 84%
Writing - 91%
Art - 97%
Tama, Punk Mambo and Ninjak come to Rex's aid, while Babel moves forward rebuilding his world-ending tower. Will he be able to complete the tower, or will Shadowman and his friends put an end to his dark reign?