You might have heard that there was a Mirror Universe mini-series focusing on Star Trek: The Next Generation. You might also have heard that it was sold out. Well, it's back.
Mirror Broken
As a pretty monster-sized ST:TNG fan myself, I'm more than a little excited about Mirror Broken. The new book from IDW plays off of the original series' 'Mirror Universe', which is essentially an alt timeline. It's there that the Federation is not a force for peace, but one of tyranny and oppression in the galaxy. Hence the "mirror" in the title, because everything's backwards. So yeah, it's the bizarro-verse.
Till now though, we've only see the original show's era portrayed. But in Mirror Broken, we get a full on look at the more modern era of Trek. And that means a buff and sleeveless Picard, a Borged-up Data, and a new generation of evil. I have no clue what the storyline is, but I have to admit that automatically want to read it.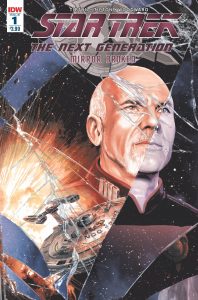 Like many a fan though, I missed out on the "prelude" issue that hit as a giveaway on Free Comic Book Day. On top of that, the initial book is already sold out in advance. That doesn't mean that getting one will be impossible. It just won't be as easy as it might have been in a standard run, one that doesn't generate this kind of buzz.
Thankfully however, IDW has heard the sound of ringing registers the world over, and will be producing a second printing.
Over 100,000 copies of the Star Trek: The Next Generation: Mirror BrokenFCBD prelude issue were given away on Free Comic Book Day and caused a stir among both the media and fans. As a direct result, the debut issue of the "Mirror Broken" limited series has sold out at the distributor level in advance of the on sale date.

Fans can still head to their comic shop on launch day to snatch up a copy before they are gone or purchase the issue digitally, but for those who miss out on a first edition and would like to collect this groundbreaking issue in print, a second printing has been issued to meet the demand of this highly anticipated debut.
So when can you grab a copy of the second run? Well, if you strike out on the 17th, then the 31st is your day to hit warp speed and get to your local comics shop. Just maybe watch for evil dopplegangers.