Are you on the side of the angels or the demons? GTA Online welcomes in Halloween with a special event starting today.
Lost, Damned
Yes, it's Halloween (weekend) once again, and you better believe that GTA Online has some treats for you. And probably a few tricks too, now that I think about it. In all, the multiplayer branch of GTA is getting a new mode, vehicle, and more.
Probably the biggest addition is Lost vs Damned. This basically shakes out to be good vs evil, and has a pretty neat hook to it. LvD has a day night cycle that's much faster than what you're used to. Day and night cycle every 60 seconds, and each period gives buffs to a particular side in this conflict. Points are delivered during day for the Lost or the night for the Damned.
NEW LOST VS DAMNED ADVERSARY MODE

The new Lost Vs Damned mode plays out the oft-told story of the righteous versus the vulgar, this time pitting Angels against Devils in the ultimate battle of the soul. Each match will flip between day and night for 60 seconds at a clip, with advantages including regenerated Armor and Health and improved Weapon options depending on the time – day for the Angels and night for the Devils. Points are awarded for kills during the time your team is powerful, so seizing these opportunities are truly the difference between life and death.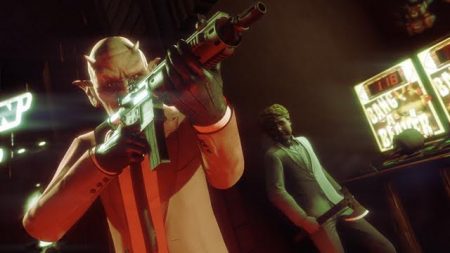 In addition to that, there's also Double GTA$ and RP for this mode, which'll be running through November the seventh. Not too shabby. Also not to shabby? The new bike.
The new LCC Sanctus doesn't have any special powers or abilities. It won't turn you into a skull-headed deliverer of vengeance either, but man does it looks cool. It's new and you can get one now for you and your gang of masked miscreants.
Clothing to make the demon
There are also some new clothing options in this update. You'll be able to deck your character out in an assortment of sketchy tees including the Twilight Knife and Butchery and Other Hobbies.
And as a very special bonus, if you add the Sanctus to your vehicular collection any time from now till the 7th, you'll also unlock the Cheerleader Massacre tee. Classy!