So does the Nintendo Switch have a touch screen, and will it support external storage? We've got some tentative answers.
Leaks aplenty
We should point out that as of now none of this info is 'official'. Remember that there's a date that's been set for further Switch talk, and it's not till January. Bottom line, even though most of this sounds very likely, it should all be taken with a grain of salt.
Still though, it does all sound very realistic. And I imagine that when we do finally get the full tech-specs, this is going to be all pretty much spot-on. So what's the news? Well…
Storage and charging
Reportedly, the Switch will support Micro SD cards up to 128 gigs, and that's it. Nope, apparently there'll be no external hard drive support built into the console, and there's a surprisingly good reason for that. It's all about portability.
According to website Lets Play Videogames, the console supporting external HD's wouldn't be conducive to portability. And that seems like something that Nintendo is taking very seriously with the Switch.
Still, 128 gigabytes doesn't sound like it's going to be enough for today's digital offerings. Today's games don't exactly skimp on the GB's after all, and if your plan is to buy everything digitally so you don't have to swap carts on the go, well it looks like you might have to carry around more than a few SD cards.
Another interesting note in the same article, is that the charging port is apparently on the base of the tablet. That makes total sense since the tablet slides into the dock while you're home, so it can charge up and you can play on the TV. Here's the thing though, that tablet also has a kickstand.
For now anyway, it looks like there's going to be no way to actually charge and play the Switch while in tablet configuration. You could seemingly do it while in handheld mode though, so you'd most likely have to change things up when you run low on juice.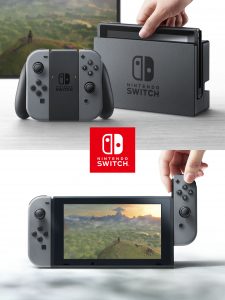 A touching screen
Another huge question that I definitely had with the Switch was whether or not that big screen would support touch controls. And it sounds like it will indeed do just that.
Eurogamer reports that the console's portable screen (which is 6.2 inches) sports multitouch. So gaming options that players have come to expect from mobiles and tablets should be easy to adapt here. But what about when you're home and the Switch is docked? How would you use touch controls then?
Well that might be a non-issue since one of the Joy-Cons (the Switch's controllers) will allegedly have Wiimote-like functionality. So the touchscreen of the Switch's portable configuration should translate pretty well to your TV at home. The only difference being that, instead of your finger, you'll just use the Joy-Con. Not the most elegant of things, but probably the only way to translate things effectively.
It's also been reported that the portable screen will be 720p in resolution. You probably suspected that it'd be HD, but it's good to actually hear that from an outside source.
In any event, that's the latest on the Switch. It's a little good, and a little not-so good to be honest, but it all sounds very solid in terms of what we'll actually be seeing. And as we await the typically mysterious Nintendo and their January presser, at least we have a little something to go on.
Source: MCV