Killer Instinct is ready to take on the world of comic books.
A book with a Killer Instinct
A digital launch title for the Xbox One back in 2013, Killer Instinct was pretty awesome. Honestly, it was better than it probably had a right to be. The one-on-one fighter pays ample tribute to the SNES classics, but updated for modern audiences. It also looks absolutely spectacular, which certainly doesn't hurt.
Rare has continued to give fans what they want too, with constant updates and 'Seasons'. That basically means plenty of new characters added in, complete with guest-stars like Halo's Arbiter. There's even been a physical edition that just hit stores, and now the comic from Dynamite.
Since the story in KI has always been a little light, I'm particularly interested in seeing what they're cooking up. Details on the actual book however, are a bit light at the moment. Though that'll change in short order I assume. We are on the eve of NYCC you know. So stay tuned KI fans, we'll have more as it's announced.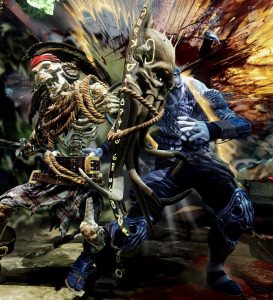 Quotes from the publisher
"We are thrilled to enter into a partnership with Microsoft Studios with Killer Instinct," says Nick Barrucci, Dynamite CEO and Publisher. "As we continue to expand our line of video game tie-in titles, Killer Instinct is a perfect choice with great characters to explore and expand upon. The comics will be the beginning of a publishing program, which we will announce more details around soon! I think fans will be very pleased with what we have coming."

"Comics is something the Killer Instinct fans have asked for again and again since launch. With the release of our newest expansion, Shadow Lords, players can see that the Killer Instinct cast has some fantastic back stories and there are still more stories to be told," says Earnest Yuen, Executive Producer for Killer Instinct at Microsoft. "We love Dynamite Entertainment's work and our team is incredibly excited to have them as a partner to expand upon the KI universe in the upcoming comic series."

"I played Killer Instinct back in its original incarnation and I was always impressed with the great character designs and interesting world that they had built out from the start," said Dynamite Director of Business Development Rich Young. "This is a game that has a rich history now… and they keep adding to it with more cool characters and game features on a regular basis, which is helping it gain even more fans. I've spoken a couple times with the KI team, and their passion really comes through, so I already know we're going to create some amazing work here. It's going to be a very fun world to play around in!"