A limited time demo of horror sequel Outlast 2 has arrived.
Outlast the night
Chances are, that if you're a horror fan, you're also a fan of Outlast. The game, which launched a short while back, casts you as helpless in the face of monsters. No, you don't get to wield any weapons, and you're not a badass. Just about the only thing you have is a light and your wits, which you'll need to escape.
We did a fair bit of Twitch streaming of Outlast, and while I've never played it personally, it looks pretty fun. You know, if your definition of fun includes running from twisted freaks in an old, dilapidated asylum. If you haven't played it either, you've now got another chance, just in time for Halloween.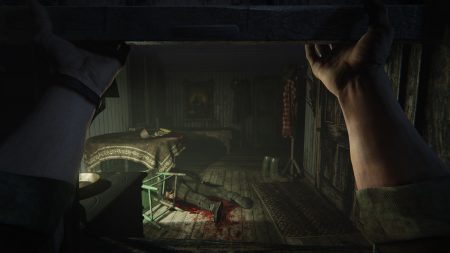 Digging deep for a new narrative
Outlast 2 is a somewhat mysterious title, meaning that we haven't heard much about it. Developer Red Barrels has been working on it though, this'd be the proof.
You are Blake Langermann, a cameraman working with your wife, Lynn. The two of you are investigative journalists willing to take risks and dig deep to uncover the stories no one else will dare touch. You're following a trail of clues that started with the seemingly impossible murder of a pregnant woman known only as Jane Doe.

The investigation has lead you miles into the Arizona desert, to a darkness so deep that no one could shed light upon it, and a corruption so profound that going mad may be the only sane thing to do.
Sound good? Then you'll want to get to downloading. The demo for Outlast 2 is a time-sensitive matter, meaning that it's only available for this month. Their timing couldn't be better of course, with Halloween coming up fast, so a little horror should hit the spot right about now.
The download will be available now through November 1st, 2016. It's free of course, so grab it as fast as you can and then proceed with the outlasting. It's available on the Xbox One, PS4, and PC (via Steam).