The rebooted Deus Ex series returns for Mankind Divided, a sequel that's well worth your time.
I like the subject matter of Deus Ex just fine, with all its conspiracies and augmented humans, but the games themselves have never grabbed me. Why that is I can't say. For me though, all of them were pretty meh right up to and including Human Revolution.
For some reason though, I was sold on this new game from the get-go. I couldn't wait to play it, and it turns out that was a good move.

Mankind Divided
This new Deus Ex takes place a short time after the first game, Human Revolution. It's a cyberpunk world that's pretty terrified of 'Augs', augmented humans. There's a reason for that too. At the close of Human Revolution, Augs went nuts all over the world thanks to a kind of virus. A lot of innocent people were killed, and that's where this new game picks up.
You play as (Aug) Adam Jensen once again, who's now working for Interpol, on the trail of some cybernetic terrorists. The story takes you mainly to one city (Prague), and it's actually pretty small in scope (the story, not the city). I kept waiting for something bigger in terms of narrative, but it never came.
It is well done though, and the city is really cool-looking and well thought out. Everything is kind of samey, but it looks so great it's hard to get bored. Still though, I'd be lying if I said I wasn't hoping for some different looking levels after a while. Thankfully, there are some.
Graphics and sound
The game's locations are excellently detailed, and that's true for the characters as well. Everything in fact, is well designed and brought to life. And that's including all the hardware you'll be sporting- both traditional weaponry and cybernetics.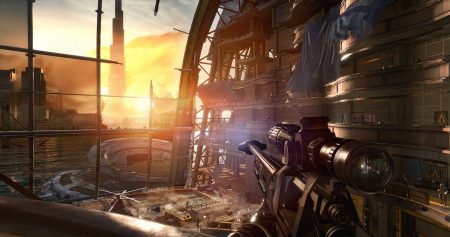 There is one thing that's not so great though, and that's the lip synching. I know, it's not that big of a deal, and I agree with you… till you get into a cut scene and the words in now way whatsoever match up to the moving mouths. And both the voice acting and the script are pretty damn good too, which kind of makes it worse! It's so bizarre that it can distract, and that's a shame.
As for the music, there's nothing particularly memorable about it. It serves the purpose though, and frames the action well.
Control
Controlling Adam is more or less your typical FPS affair. If you've played BioShock, then you know what to expect. There's (excellent) gunplay aplenty, and all you need to do is swap out your Vigors for augs, and you're good to go.
Augs can be upgraded with an in-game tree too. You'll earn points to use as you go through the campaign, and can then spend those points on improvements. Just keep in mind that some augs are more useful than others.
Actually, now that I mention it, there might be too many to pick from. Adam definitely could have made do with less.
Extras
Single player is the focus of Mankind Divided, no doubt, but there is more to it. Mankind Divided offers a mode called Breach, which is pretty fun.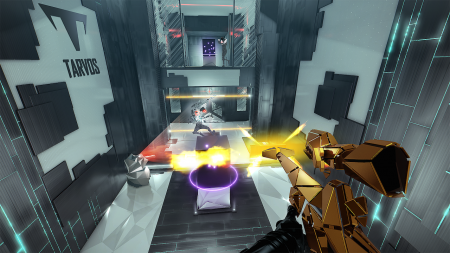 Standalone missions are the meat and potatoes here, and they are delivered in bite-sized portions, in VR style.  As you might imagine, this isn't enough to hold interest if there was no base game. A robust multiplayer mode this is not. Though honestly, that'd be kind of out of place, and Breach serves well enough as a fun little aside.
Deux Ex: Mankind Divided
Release Date: August 23rd, 2016
Publisher: Square Enix
Developer: Eidos Montreal
Platforms: Xbox One, PS4, PC
Augmented
Enhanced graphics and sound - 90%
Tight control and excellent augs - 90%
Cybernetic oddities like bad lip-synch - 75%
Deus Ex: Mankind Divided hits all the right marks. The gameplay is terrific in both its gunplay and cyber-attacks, and the graphics & sound are all great. Yes, the story is a little small in scope and the lip-synching is straight-up awful, but everything else is so good, it's tough to dislike this one.