For the past several weeks, Battleborn have been rolling updates in the form of Battlplans. Usually discussing upcoming content or balancing issues, June's Battleplan sets the future of the game.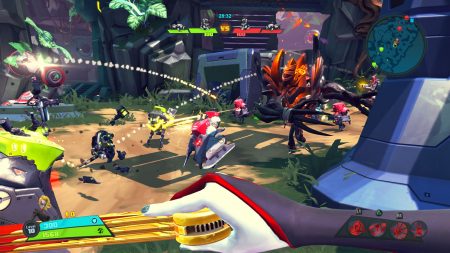 In an extensive list, 2K has provided information on a vast amount of content ranging from free DLC content, premium DLC content and the marketplace.
Here's the breakdown of the major free DLC available for Battleborn over the coming months:
5 more heroes, Alani being released May 31st 2016, Pendles coming in July, Three more additional heroes during late summer through to Fall (more than likely can be purchased by in-game credits for 47,500).
Three new PVP Maps, one for each mode
Broadcaster mode
New PVP mode in Fall with an additional PVP mode coming late Fall or Winter
In-game reporting
In addition, hero balancing and matchmaking are constantly being tweaked to ensure the best possible online play. Also lore challenges will be patched to adjust some of the requirements for certain heroes. I'm glad that they are paying attention to the players by adding more content especially on the multiplayer front. Adding another map will help alleviate some problems and add some much needed variety. As of this time, only 2 maps are available for each mode. In-game reporting is welcomed addition as some players do tend to leave mid game if the match is going pear shaped.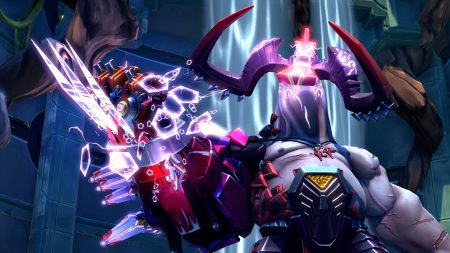 Following on, here's what's looking on the Premium side of things:
Pendles due early access with a hero key mid-summer
Each DLC story operation includes new, unlockable skins and taunts
Story operation 1 "Attikus and the Thrall rebellion" coming late Summer
Story operation 2 around late Summer
Story operation 3 early Fall
Story operation 4 late Fall
Story operation 5 Winter
As seen, the Premium content all revolves around the additional story missions. I am very much looking forward to these as I can see them expressing more characters that were rather neglected previously. I want to know how heroes like Attikus, El Dragon and Phoebe fit into this universe and their respective home planets. The original story missions had an emphasis on heroes such as Deande, Mellka and Kleese. These story operations will shed some light on the other, more interesting heroes.
Are you ready for this slew of content for Battleborn? Personally I like the fact that they have finally provided a timeline for their current and future DLC's and content. The upcoming heroes and story operations will be free to those that have bought the season pass. Otherwise, purchases can be made through the marketplace. Recently, a premium currency known as platinum has been implemented. For the details about platinum, check out our post here to find out more. On the other hand, if you want to see the full blog post by 2K, click here.