The latest wave of Marvel Legends figures announced by Hasbro will be focused on the X-Men, and the last two figures have been officially unveiled.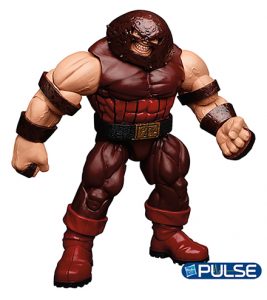 I'm all in for these. Like, all in. As a monster X-Men fan from way back though, how could I not be? Marvel Legends, as a series, has been pretty much all about the publisher's 'Avengers' superheroes for the last few years, with little in the way of mutant inclusion. There've been a few here and there, so it's not like they weren't represented at all, but as far as waves with mutants as a theme? Not so much.
All that changes this year though, as Hasbro announced at Toy Fair that a new X-Men wave would be hitting. The wave includes a Jim Lee-era Rogue, Jean Grey as Phoenix, updated versions of Havoc, Cable, Iceman, and Deadpool, AND a new Kitty Pride who will include Onslaught's Magneto-like helmet. Why? So you can pop off the Red Skull head on the Captain America series' BAF Onslaught and make the character in his original form. That's just awesome, and hopefully we see that kind of 'swappable part' initiative carried on into future waves.
There were two figures left off the list when the above were all shown off at Toy Fair '16 though, and Hasbro has finally made them official. A super-cool brown and yellow Wolverine (my favorite version of his costume btw) is the last solo figure of the wave, and the Build-a-Figure is none other than Prof X' bro, the Juggernaut.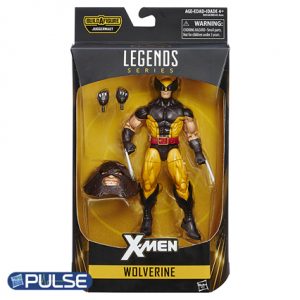 Both characters already had Marvel Legends figures from way back, but both were due for an updating. In the case of Wolverine, this new one looks to be a much better sculpt overall, while Juggy has a more realistic form. Yes he's still massive, just like the old figure, but this new one has a more even appearance, instead of the somewhat cartoony look of the prior version (which had MONSTER arms).
I like the old one a lot, but heck I'm not going to turn down a new Juggernaut figure. It's not too often we get one after all. Just bear in mind that, if you do want this version of Juggernaut, you'll have to buy all the figures in the series in order to put him together. Though with this excellent assortment of characters, that should be too rough ('cept on your wallet).
Look for the X-Men series of Marvel Legends to land on shelves and arrive at internet retailers (which is probably your best bet to get 'em all) this Autumn.
Source: Hasbro Pulse