The first information for the upcoming seventh generation of Pokémon, Sun and Moon, has been announced.
According to Serrebi, some new footage has shown the starters, the legendaries, and the region for the new games. The release date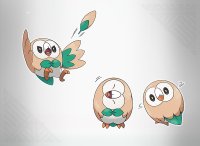 has also been announced.
The starters are keeping with the tradition of having a grass, a fire, and a water type again. This time, though, the grass starter is also part flying. Rowlet is the grass starter, Litten is the fire, and Popplio is the water. I'm being honest when I say I'm not quite sure what Rowlet is supposed to be, but Litten is a cat of some kind, while Popplio is obviously a seal.
The games' respective legendaries were also shown, but were not named. I just hope that this time, they aren't god-like pokémon who have the power to end all life. I think we could use some more modestly powered legendary pokémon.  The Sun legendary looks like a lion, and the Moon legendary looks almost like a bat.
It was also revealed that the games will be available in America and Japan on Nov. 18, 2016. Sun and Moon will come to Europe a few days later, on Nov. 23.
The trailer also shows a great deal of the new region, Alola. Alola looks pretty
heavily to be based on Hawaii. The entire trailer has a feeling of tropical paradise. Again, too, the world looks to be developed more and look nicer than it did in Pokémon X and Y. Hopefully, Sun and Moon continues this trend, but improves the optimization of the games so that frame rates don't drop into single digits during fights.
Serebii will be updating throughout the day in case there is any info that comes after the writing of this article. Check out the Sun and
Moon trailer below.