Death of X is going to be pretty big… whatever it is.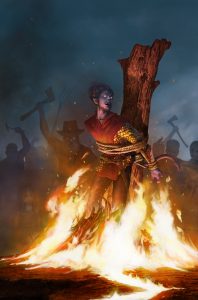 A total of 20 Marvel books will feature variant covers tying into Death of X this Summer, though exactly what that story will entail is still something of a mystery.  That's something that Marvel is well aware of, even going so far as to call Death of X "highly classified". Even though we don't yet know what it'll be about, I will say this; it doesn't sound too healthy for the mutants of the Marvel Universe.
Using phrases like "Marvel's mutants meet their maker", "from Jean Grey to Nightcrawler to the All-New Wolverine – no Mutant is safe from the Death of X", and (finally at the close of the press release) "The end is near. There won't be a dry eye in the house. Get a front row seat to the demise of the X-Men…", it certainly sounds as though there might be some mass-casualties on the horizon for the X-books this coming July.
Mostly unrelated to the Death of X itself (I think) will be an accompanying series of variant covers, which you will note is just like Apocalypse Wars, which is running the same pretty neat gimmick. These variants will run the gamut of X-Men titles (which will feature the story in question) all the way down to books like Daredevil and Power Man & Iron Fist, which more than likely will have no part in Death of X.
Personally, I'm a little worried that this might finally, at long last, be the end of the mutant corner of the Marvel Universe. It's seemed that way before of course, only to see a resurgence in X-Men stories on the main stage, but this seems pretty dire. And with Fox having another X-Men movie in theaters, and there being no word on a deal to include the mutants in the MCU… well, you just never know.
Of course, this could all be a massive swerve too. So basically, stay tuned. You can see a trio of the covers that are on the way in the gallery at the end of this story, and read through a full checklist of what books will offer the variants right… HERE:
All-New X-Men #11
All-New, All-Different Avengers #12
Amazing Spider-Man #15
Black Panther #4
Captain America: Steve Rogers #3
Daredevil #9
Deadpool #15
Doctor Strange #10
Extraordinary X-Men #12
Guardians of the Galaxy #10
Invincible Iron Man #11
Mighty Thor #9
New Avengers #13
Old Man Logan #8
Power Man and Iron Fist #6
Spider-Man #6
The Astonishing Ant-Man #10
Uncanny Avengers #11
Uncanny Inhumans #12
Uncanny X-Men #10