RPG 100% funded in just over 2 hours!
From London's Modiphius Entertainment, the creators of Achtung! Cthulhu and Thunderbirds the 50th Anniversary co-op board game, Conan: Adventures in an Age Undreamed Of shattered their goal of $65k in just over two hours.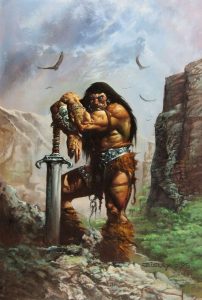 Tabletop gamers rejoice as one of the most popular characters comes to your living room. Working with world-renowned Conan experts and scholars, and focusing exclusively on Robert E. Howard's original stories, Modiphius' Conan: Adventures in an Age Undreamed Of has a core rulebook with 368 pages containing everything you need to adventure in the world of Conan. Rules, cultures, geography, reliigions, magic, gods, and much more.
"You have, no doubt, heard tell of Conan… the barbarian who stole a kingdom with his red-stained sword-hand and crowned himself in iron… but the Hyborian Age knew many heroes… and Their tales are yet to be told…"
Release dates are not yet set, but for those who were a fan of the Hyborian king, things are moving ever closer.
source: kickstarter