NECA is known for their amazing Aliens and Predator figures, and they're out in force at Toy Fair, along with Ash vs Evil Dead, new 8bit-themed figures, and lots, lots more.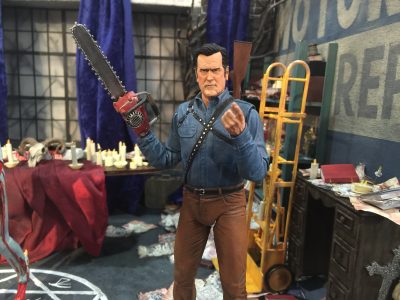 Come get some. NECA certainly did with this new line based on the hit Starz show, Ash vs Evil Dead. With one season in the can and a second season on the way, the horror/comedy series has returned the classic property to its rightful place at the top of the zombie/demon killing heap. So of course, there's going to be a toy line.
With a  relatively small first offering, the Ash vs Evil Dead figures that are set to hit the market this year are really pretty awesome. Ash is available in a pair of flavors, and then we've got the repulsive (but in a good way) Eligos demon. I'm sure you remember, but just in case you don't, Eligos is a demon of the mind, who generally screws with Ash and co's brains to several extreme degrees. And he make for a wicked-looking figure too, which is a nice bonus.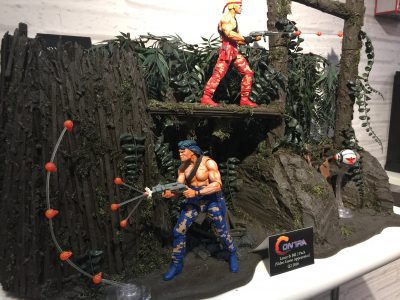 Past that, we've also got some new video game figures, which runs the gamut from brand new, current-gen stuff to the incredible 8bit classics that NECA has made quite an expansive (and did I mention incredible?) line out of.
Drake from Uncharted and Kratos of God of War fame both will be on the way to retail, and they'll be joined by an awesome 8bit repaint of Castlevania's Simon Belmont and that stunner of a Contra two-pack that we saw previews of a while back. Of course, both the vampire-killer and the Contra gents will be shipped in packaging that mimics their original game boxes as well. Honestly, they're kind of must-haves if you're an old school gamer.
And then there's the Aliens and Predator stuff. If you thought NECA couldn't possibly do any better than the line has seen till now, think again. The new series of Predators shown off at Toy Fair is far and away my favorite stuff from the brand till now. They're modeled after the figures that first debuted as a part of Kenner's Predator toys in the 90s and, well just look at the pictures.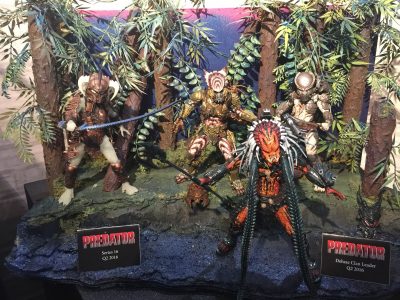 Aliens was there as well though, not to be shown up by its horror/sci-fi cousin. Alien 3 was the film du jour on the show floor, with shaved-head Ripley, some dog Aliens (and Queen chest burster!), and the super-cool looking Weyland Yutani commandos all in attendance.
A smorgasbord of other properties were also shown in the booth, with great stuff from Hateful Eight, Rocky, DC and Marvel film quarter-scale figures, Terminator, and TMNT. And then there's the giant-sized stuff.
Meant to be more for retail stores (for display) than really anything else according to a rep at the booth, I can't imagine that there aren't more than a couple of fans out there who'd snap up some of this stuff as a centerpiece item for their own collector's cave. Personally, I want that xeno egg and the Slimer… like now.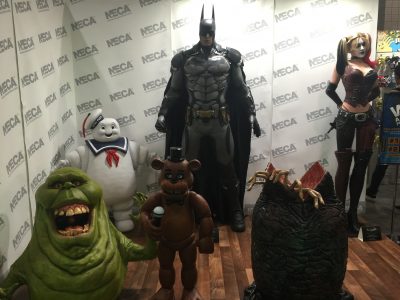 Pricing was a little hard to come by, though I was told that the Batman (which has to be about 7′ tall) is about $1100.00 USD retail, so you can imagine what some of the smaller pieces would go for. I got an estimate that the Slimer would probably price in at something like $400.00, which seems about right. Actually, I think it sounds a little on the cheap side for something like this. But maybe it's me.
There's plenty to ogle in the gallery below, so scroll down, bathe in the glorious images of what's to be, and enjoy.