Oh man are there some cool freebies coming out of NECA right now.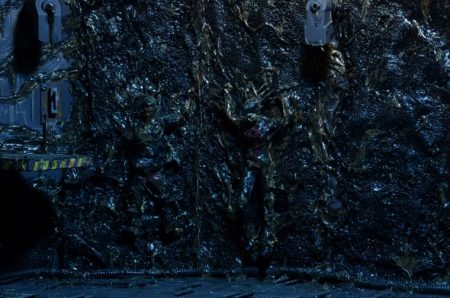 Downloadable items might not sound like they'd have all that much to do with awesome action figures, but what NECA is pumping out right now definitely does- in spades. The toy-maker, who continuously produces some of the best stuff out there, has opened up the tap on some excellent backdrops for your Aliens figures, and more.
On day 4 of the series as of today, the 12 days of downloads has so far included a recreation of their Comic Con/Toy Fair Alien Queen display. All you need to do is piece it together after you download and print it, and you've got a wicked backdrop for your own hive.
Days 2 and 3 continued that xenomorphic trend with a set of shots from the original 1979 classic Alien, to prop your figures up against, and a visual checklist of all the Alien action figures that are available right now. NECA did a Predator one last year, and this one's just as cool looking. Well worth tacking up on the old wall, or using as a wallpaper for your computer.
The 4th day differed from the others and took a left turn into slasher-land with Texas Chainsaw Massacre. It's hard to make something creepier than the Alien Queen chamber, but I think NECA's Leatherface display pretty much does it with a skull trophy wall and a bloody room – complete with hooks.
All of it's cool, and all of it's free, so make sure you click here and grab these freebies while you can, then head back to their site every day till they count down to the last one, to get the rest. I'm a huge fan of their Alien stuff personally, so I know my shelf if about to get a whole lot prettier… or uglier… you know what I mean.