Suicide Squad looks like it'll be getting a solid merchandising push as the first big screen film starring the baddies of the group makes it's way to audiences, though it's not the only thing in this update from DC Direct for July 2016's releases.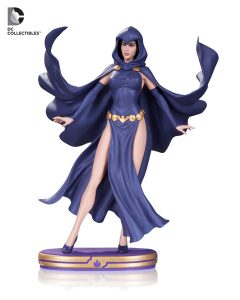 Busy cranking out some of the coolest stuff you're likely to find in the comic and/or specialty store near you as of late, DC Direct is on a roll. But while the action figures it's been crafting are getting the lion's share of the attention (I'm looking at you Icons and Arkham Knight), the company isn't just about plastic, articulated heroes and villains.
Statues starring some of the members of the Suicide Squad will arrive this coming July, which is about a month ahead of the August 5th launch for the movie. these will be the movie versions of the characters, and as you can see in the gallery below no shots of the team have been released as of yet. We do know that each statue will measure up to 12″ tall and will cost you $150 USD though- that and that Headshot, Harley Quinn, Joker, and Killer Croc will make up the first wave.
Past that, there's also a new Bombshells statue in the works for mid-Summer. Power Girl and Superman will team up for this retro-reimagining, which will stand in at 13.86″ tall, be limited to 5,200 pieces, and retail for $250 USD.
Staying on the feminine side of the DCU, the Teen Titans' Raven will be joining the DC Comics Covergirls line, whom you'll see to the right. Designed by Stanley "Artgerm" Lau, she'll be 9.5″ tall, be limited to 5,200 pieces and run you a cool $100 USD, which is a pretty nice price for something like this.
As for the gentlemen (using that term loosely here), we've got both Deathstroke and Lex Luthor who'll be a part of the DC Comics Icons statue line. Not to be confused with the aforementioned action figures, these bad boys were sculpted by David Giraud (Slade) and Erick Sosa (Lex) and will stand 10″ and 10.75″ respectively. Like Raven, they'll also cost $100 USD each.
And finally, July 2016 will also see the release of two new plush DC Comics Super-Pets! Both Ace the Bat-Hound and Jumpa (of Wonder Woman fame) will be traveling all the way from the Silver Age to be new additions for the line.
Ace will be 9″ tall, while Jumpa will tower over all others at a whopping 14″ high. The best part here is the price, with the cuddly heroes costing just $15 USD each.
All in all, that's a pretty big July for DC Direct, with more than likely additions to come. Stay tuned, we'll have pics of those Suicide Squad statues as they're released. In the meantime though, scroll down and check out what was unveiled in the gallery below.