The last three teaser images have hit the web from Fox for the all-new X-Files revival.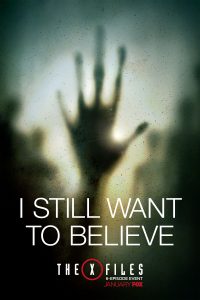 Not that any of the below pics are all that telling (what do you expect from the X-Files?), but all three are laden with classic imagery from the show.
For starters, that 'I Still Want to Believe' image is instantly recognizable as a riff on the old poster that hung in FBI agent Fox Mulder's office throughout the original run of the The X-Files. It's pretty much as iconic, in respects to the fiction, as anything, so it's cool to see it be revised for the new run.
Also interesting is the eye picture, which has an 'X' pasted across it as though it's the iris. The black X of course, appeared in the original show as well; it was a summoning sign left by Mulder and the enigmatic mystery man dubbed Mr. X, who was an informant of the agent's. Of course, 'trust no one' should be pretty recognizable to fans as well, as something that was repeated over and over in the show.
And following up those is the poster with the hand, a very unusual hand at that. And that one has that new slogan attached as well.
Cool stuff, and even more reason to eagerly await January 24th and 25th, 2016. That'll be when the new six episode run of The X-Files kicks off.