Fan of Star Wars? How about Call of Duty and/or Doctor Who? If you are, then there's something for you in December's Loot Crate offerings.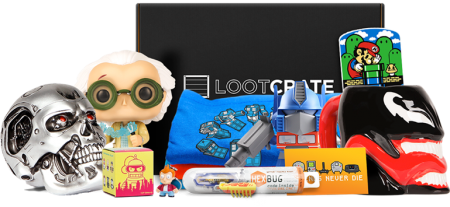 Pretty much everybody should know Loot Crate at this point. The service delivers fresh stuff to your door, of a somewhat mysterious variety, every month with a subscription. And although what's in the crates that get dropped off is a question mark, it's not too much of a spoiler to say that it's pretty much all cool.
Each 'crate' includes 4 to 7 items, with tons of exclusive stuff hitting all the time that you won't find anywhere else. And as far as brands go, they offer some of the biggest in the world, including "Star Wars, Disney, Marvel, DC, Star Trek, Nintendo, Hasbro, Mattel, Minecraft and many more."
This week, the company took the wraps off of its "largest and most diverse holiday lineup to-date"; and yes, it's a doozy. Limited edition crates include: "Star Wars™ ($100.00, on sale on Cyber Monday, November 30), Call of Duty®: Black Ops III Limited Edition Crate ($100.00, on sale November 23), and Doctor Who ($50.00, on sale November 20)".
On top of those bad boys, Loot Crate is also launching a pair of new subs for quarter 4, with Loot Anime and Loot Pets. Here's what's included in those as well as where you can go to sign up for 'em.
LOOT ANIME

A brand new monthly subscription crate service featuring an assortment of figures, collectibles, manga, apparel, accessories, and more from some of your favorite ANIME and MANGA series! The inaugural anime crate will go on sale November 17 and ship in December.

https://www.lootcrate.com/anime

LOOT PETS

Calling all Harry Puppers, LabraThors, Boba Petts and other stylish geek dogs, Loot Pets is a monthly subscription that delivers pop culture inspired toys, treats and wearables for dogs. Loot Pets will debut in December as part of Loot Crate's December theme.

To order your Loot Crate holiday gifts, visit www.lootcrate.com.
Also, as a little reminder, Loot Crate subscriptions make for some pretty slick gifts all by themselves (or maybe for yourself even). One month goes for $20 USD, while three and six-month gift subscriptions will run you $58 and $115 respectively.
There's even Level Up, which is available across three different services (socks, accessories, and apparel), and should upgrade that special someone's attire nicely. Lots to pick from, and lots of cool stuff to be had.