Previews has a special slate of comic book and movie-inspired wallets coming up from Dinomighty that you'll probably want to check out.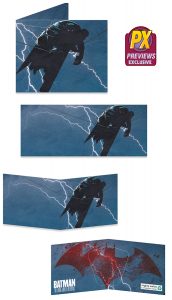 Lets be honest – wallets are pretty boring. Sure there are some that cost you an arm and a leg that are pretty sweet, but in general, the place where you keep your credit cards and cash is dull at best. To the rescue though, is Dinomighty and Previews Magalog, who have the exclusive rights to see these little beauties.
Showing up in the new November issue of the mag, two Batman wallets (featuring art from The Dark Knight Returns), a Deathstroke wallet, and two Star Wars wallets are now ready for pre-ordering. Constructed from DuPont Tyvek material, these are no ordinary wallets either; they can take a serious beating.
Each Mighty Wallet has plenty of storage too, with two pockets for cash and receipts, as well as two expandable pockets for cards. You'll also find two "quick access" pockets for business cards (or more credit cards I guess), and four "writable business cards".
Each of the above (and below) will run you $15.00 USD, and they're set to ship out in December, which basically means that they'd make a cool and inexpensive Holiday gift for the geekier names on your shopping list.