And little else.  The only full release across consoles is Stella Glow.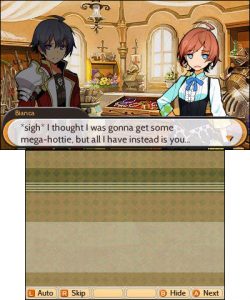 Nintendo Badge Arcade, a pseudo free-to-play, pseudo game all about acquiring badges to decorate your home menu, has launched this week.  While your first few tries are free, be prepared to spend some cash if you're looking for more.  Or you can play the waiting game until Nintendo gives you more free tries.
Atlus's Stella Glow releases on November 17th, and the demo is available now.  The strategy JRPG is developed by Imageepoch, the same people behind the DS's Luminous Arc series, the Wii's Arc Rise Fantasia, and the recent Criminal Girls Invitation on the Playstation Vita.
Contra Advance: The Alien Wars EX hits the Wii U VC, and there are a few noteworthy sales (including the Affordable Space Adventures 20% off in time for its update), but otherwise it's another bare week.
From Nintendo:
This week's Nintendo Download includes the following featured content:
Nintendo eShop on Nintendo 3DS

Nintendo Badge Arcade – Grab all the Nintendo-themed badges you can in this fun-filled crane-machine game, then arrange them into a custom HOME Menu theme for your Nintendo 3DS system. Unleash your creativity with dozens of digital badges to collect. Start your collection today with this free-to-start game in the Nintendo eShop!
Stella Glow – It's time to start your journey. Use strategy, magic and weapons to defeat the Witch of Destruction and save the world! Stella Glow will be available on Nov. 17.

Virtual Console on Wii U

Contra Advance: The Alien Wars EX – Take down massive hordes of aliens, robots and monsters to stop the evil Red Falcon from taking over the world! Awesome weapons include the Spread Shot, Laser and Flamethrower. This Game Boy Advance version of the classic game features new levels and graphics from the original Super NES version.
Nintendo eShop sales:
Nintendo eShop on Wii U and Nintendo 3DS

Turtle Tale for Wii U and Nintendo 3DS is 40 percent off (reduced from $2.99 to $1.79) until 8:59 a.m. PT on Nov. 26.

Nintendo eShop on Wii U
Nintendo eShop on Nintendo 3DS
Activities:
You Have a New Client Waiting! – Felyne is a character from Capcom'sMonster Hunter game franchise, and he is looking for a home designer to help decorate his place in the Animal Crossing: Happy Home Designer game. Fulfilling Felyne's request will net you new and unique items for your catalog. Use Monster Hunter-themed items to make him feel right at home. Felyne is available for a limited time via SpotPass, so check the in-game Nintendo 3DS system on the second floor of Nook's Homes to meet him and take him on as a client.
Code Name: S.T.E.A.M. "Emerald City" Tournament – See how your squad stacks up online in Nintendo's Public Tournaments. Top players earn unique titles that are visible online and earn major bragging rights with your friends and around the world. The new "Emerald City" tournament runs Nov. 13 through Nov. 16. Opt in via the SpotPass feature on your Nintendo 3DS system for notifications about future tournaments. Good luck, agents!
Theme Shop on Nintendo 3DS:
New themes this week include:

Stella Glow : "The Witches and Bubu"
Also new this week:
In addition to video games available at retail stores, Nintendo also offers a variety of content that people can download directly to their systems. Nintendo adds new games weekly to the Nintendo eShop on the Wii U console and the Nintendo 3DS family of systems, the Nintendo DSi™ Shop for the Nintendo DSi system and the Wii™ Shop Channel for the Wii console.
The Nintendo eShop is a cash-based service that features a wide variety of content, including new and classic games, applications and demos. Users can add money to their account balances by using a credit card or purchasing a Nintendo eShop Card at a retail store and entering the code from the card. All funds from one card must be loaded in the Nintendo eShop on either Wii U or the Nintendo 3DS family of systems, but can be used in either Nintendo eShop if the systems are linked to a single Nintendo Network account.
The Wii Shop Channel offers games and applications and uses Wii Points™, which can be purchased via the Wii Shop Channel. The Nintendo DSi Shop offers games and applications and uses Nintendo DSi Points™, which can be purchased in the Nintendo DSi Shop.
Remember that Wii U, Wii, Nintendo 3DS, Nintendo 3DS XL, Nintendo 2DS and Nintendo DSi feature parental controls that let adults manage some of the content their children can access. For more information about this and other features, visithttp://www.nintendo.com/wiiu or http://www.nintendo.com/3ds.