A pair of spooky tales take center stage in this one-shot of Hellboy and the B.P.R.D. 1953, and just in time for Halloween.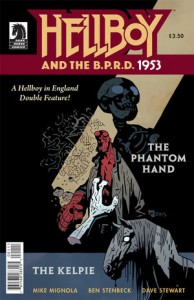 Helboy lends himself to the supernatural of course, being that he's the son of the devil and all. So with that in mind, having a special Halloween issue of his latest book that contains a ghost story and a demon fight is just about perfect for this time of year.
And while this issue isn't anything earth-shattering or something that's going to change your view of the hero, it is nonetheless enjoyable. That's especially true if you're someone who just likes Hellboy, and relishes the chance to catch a story that features him in his prime, which is something that has been missing for a long time thanks to his 'death' and the Hell on Earth arc that's just starting to come to a close in the B.P.R.D. book.
This particular narrative is set in 1953 (hence the title), which is actually supposed to only be Hellboy's second year in the field. As such, he's a pretty raw rookie. That does not, however, mean that he's not the brash and quick to anger guy that we all know and love.
The Phantom Hand (which has nothing to do with Metal Gear) starts out with Hellboy and original B.P.R.D. head Trevor Bruttenholm traveling to St. Albans in England, where they meet up with Harry Middleton. Middleton is an old acquaintance of Bruttenholm's and he's got a tricky case that he'd like the pair to investigate.
Turns out that there's this disembodied hand trolling around a mansion, and there may be more than just ghostly happenings associated with it; there might be demonic forces at play. While I don't like to spoil too much ever in a comics review, I will say that this is the telling of Hellboy's first ghost hunt, and as a first encounter it's pretty eventful.
The hand comes from someone who may have been under the influence of demons and did horrendous things. In the man's original capture, his hand was severed, and apparently is still around. Much of the story is exactly what you'd expect from a Hellboy tale (that's good by the way), and there's even a haunting hint at things that may be still to come as it closes.
It's good stuff overall, even though it's not huge in scale, though I don't know what other level of quality you'd expect from Mike Mignola. Mignola created Hellboy and knows how to tell a story within his universe. Basically, it's not a great idea to miss one, and this one very much fits in with that thought.
Mignola pens both stories by the way, and Ben Stenbeck provides double duty as goes the artwork as well. Stenbeck's work is right at home in Hellboy's universe, and fits the character and the menagerie of occult horrors that he faces. It's a tad more detailed, but if you like Mignola's own art style, and that of the soon to depart John Arcudi, then you'll dig this just fine.
The second story, by the way, isn't as good as the main tale presented here, and runs by fairly quick. Though in all fairness, it's not meant to be all that deep. Just a quick trip through Bruttonholm and Middleton's past and one of their first (and quite deadly) encounters with the paranormal. For what it is, it's enjoyable.
Final Thoughts
More Hellboy and Mignola is never something that fans of the character should skip the chance to read through and that holds true here as anywhere else. Complimenting the writer, Ben Stenbeck's work is heavy lined and surprisingly detailed. It fits the book well and is generally pretty awesome.
A spooky pair of stories for a Halloween week, and ones that further extend the Hellboy mythos, even if only just a bit. Well worth the time of fans and solid for newcomers, as it introduces Hellboy and the world he inhabits freshly past his origin.