Hitting on Halloween, the debut episode of Ash vs The Evil Dead on Starz Channel will bring one of horror's most beloved hero back on the global scale.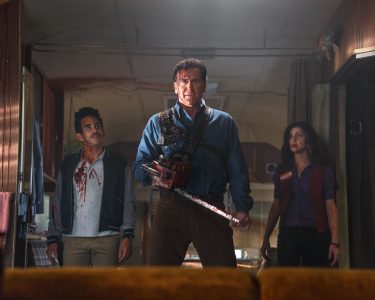 The new half-hour show, airing on Starz, casts Bruce Campbell once again in the role of Ash Williams, a stock boy (turned stock man) who's been fighting the forces of darkness for most of his adult life. The show will run 10 episodes in its first season and pairs the comedy of Army of Darkness with the blood & guts horror of Evil Dead 2.
All in all, it looks like a winner and the whole world will get to see it on its debut day, thanks to a deal set up by Starz.
Michael Thornton, Chief Revenue Officer at Starz added, "Fans of 'The Evil Dead' have spoken with great passion and interest around the world, sparking high buyer demand for 'Ash vs Evil Dead.'  We are delighted to be able to provide flexibility to many of the key buyers serviced by Starz Worldwide Distribution and Starz Digital, and thus allow for a wave of local 'Ash vs Evil Dead' worldwide premieres on the 'groovy' date of October 31,"
Check your local listings for times, but the following are among the networks that will be hosting the global premier of Ash vs The Evil Dead on October 31st.
Amedia (Russia/CIS)
C More (Scandinavia)
FOX Action on FOX+ Premium service/FOX Latin America Channels (Latin America/Brazil)
SKY TV (New Zealand)
Stan (Australia)
STARZ PLAY Arabia (Middle East/North Africa)
Super Channel (Canada)