Next week, Valiant Entertainment is taking center stage for the NYCC 2015 with a variety of exclusive offerings.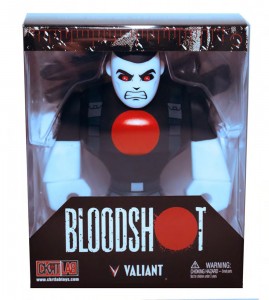 To begin with is the limited edition Bloodshot Urban Vinyl figure by CKRTLAB Toys.  Bloodshot enters the fray at 5.5 inches tall with 6 points of articulation and is perfect for display.
Then clear extra space on your shelf for the Ninjak/Shadowman "Operation: Deadside" Sculpted mugs collector's set from Surreal Entertainment.  These two individually packaged mugs will start any fans' morning with high-octane action that only Ninjak and Shadowman can provide!
Expand your Valiant wardrobe with a brand-new array of Valiant Heroes Cosplay T-Shirts by Trevco, Inc.  Finally, pick up the Book of Death: The Fall of Harbinger #1 NYCC 2015 Exclusive Variant, featuring an all-new cover by Ian McGinty.
Also debuting at NYCC, don't miss your free sneak preview of what's coming next for heroes in the Valiant Universe in the Valiant 2016 Preview Edition.  Also, look for signings and appearances all weekend long from some of Valiant's most acclaimed talents.  Panels include Valiant 101: New Fans Start Here! and 25 years of Valiant: Book of Death and Beyond.
The future looks bright for the Valiant Universe.