Robbing ships and shooting the bad guys.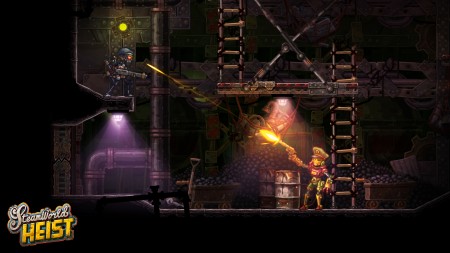 Steamworld Dig was a well received downloadable title back in 2013, and it was a great fun game to play.  Now the team responsible have a new game on the way in the form of Steamworld Heist, and this game is a bit different from the previous game.
Steamworld Heist is a turn based strategy game, where you take control of Captain Piper and her crew, and the idea is to loot the various ships you come across and take out all the crew of said ships.  Each level has a series of enemies and items that provide cover for you to hide behind.  Each turn you can move or attack the enemy by aiming with the d-pad and firing.  Each playable character has a different gun which behaves in a different way.  So Price's pistol gives you an aiming line and you can bounce your bullets off walls, whereas one of her crew has a shotgun which can be damaging but is imprecise.  You can shoot through floors and stairs, but you can't harm the enemy if they're behind cover.  The barrels can only take so much damage before they are destroyed, though, so you have to be careful when you're behind it.
Along the way, you will characters who are friendly to you and will help you out if you can get them out of the predicament they're currently in.  They add extra weapon options for your party.  Heist has the same graphical style and charm as Dig, and the characters are interesting and varied.  The controls are also very clearly explained on screen, and work really well.
All in all, Steamworld Heist is certainly looking good so far, and the full game is shaping up to be a lot of fun.
Steamworld Heist is in development for 3DS, PlayStation Vita, PC, Xbox One, PS4, Wii U and mobile platform and is scheduled for release in Fall 2015.