Just because the rest of the world has been enjoying it for months doesn't mean those of you in the US should pass up a chance to play Yoshi's newest adventure.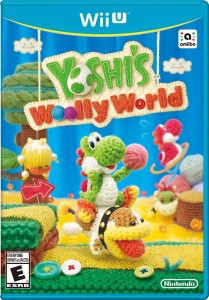 Select GameStop stores are holding a demo event for Nintendo's upcoming Yoshi's Woolly World (Wii U).  If you've got plenty of free time and a taste for hand-crafted, whimsical platformers, then check and see if your local GameStop is hosting.  Demos run 1pm-4pm on Saturday, October 3rd.
In my experience, these sorts of events have manageable lines and are a great place to collect some Street Passes, friend codes, and local Smash victories.  Even if you only have a passing interest in Yoshi's Woolly World itself, consider stopping by.  No word on how long the demo will be, or what stages will be featured.
Yoshi's Woolly World will release in the US October 16th, as a standalone ($49.99) or bundled with the adorable Yarn Yoshi amiibo (available in Green, Light Blue, and Pink) ($59.99).
Those of you in the UK can of course just pick up the actual game, if so inclined.
We're not bitter.  Just maybe a little bit jealous.