We're going mad in September- Mad like Max that is. All month long Brutal Gamer will be visiting the wasteland of the post-apocalyptic future of Mad Max and other desolate fictional universes, in a series of articles.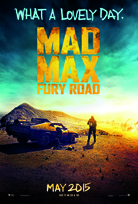 Tomorrow, we're leading things off with a look at the latest revision of the original Mad Max film on Blu Ray, and talking about some of our favorite visions of a possible future age in the world of video games as well. Shifting into next week, we'll be posting our full review of the all-new Mad Max video game, which just hit the PS4, Xbox One, and PC. We'll also flow into some world ending movies next week, as we run down our favorite apocalyptic films of all time.
We don't end things there though, as week three will bring about a review of the recently released DC Comics focusing on Mad Max, as well as reviews of those classic Max sequels, The Road Warrior and Beyond Thunderdome. And then there's week four.
Rounding things out is a review of Fury Road on Blu Ray, and a look back at the film series on the whole, including our opinions on which films were the best, and which ones, well, were apocalyptically bad.
It's going to be a fun couple of weeks, so stay with us, and weigh in on what you think of our thoughts on a franchise that's suddenly become hot as an atom bomb.
Hey guys and gals- Just a quick note to let you all know that we had some posting issues on some articles so the Mad Max Month is officially starting up today! And that means that there'll be plenty of Max-themed content posting up this whole week, so we hope you enjoy!