If you're a comic fan from one of the medium's most recent of heydays, then you're probably going like what Marvel is cooking up for a set of variant covers coming to shops this December.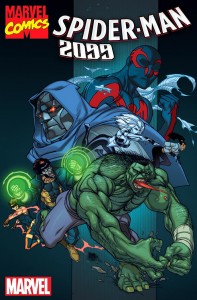 The early 1990s were quite a time for comic books, loaded up with big stories featuring some of the most iconic versions of the most popular heroes around. Apparently, that's something that Marvel looks back on fondly as well, as the era has already spawned the X-Men '92 book that's a part of Secret Wars.
And that's doubly true as now they've announced that they'll  be printing up a whole line of variant covers to their lineup of comics due to hit stands in December.
Here's your checklist:
1.      ALL-NEW X-MEN #3 Marvel '92 Variant by Rob Liefeld
2.      ALL-NEW WOLVERINE #3 Marvel '92 Variant by Tom Raney
3.      A-FORCE #1 Marvel '92 Variant by J. Scott Campbell
4.      BLACK KNIGHT #2 Marvel '92 Variant by Steve Epting
5.      CARNAGE #3 Marvel '92 Variant by Mike Deodato
6.      DAREDEVIL #1 Marvel '92 Variant by Larry Stroman
7.      DEADPOOL #3 Marvel '92 Variant by Rob Liefeld
8.      DOCTOR STRANGE #3 Marvel '92 Variant by Mark Texeira
9.      DRAX #2 Marvel '92 Variant by Ron Lim
10.  GUARDIANS OF THE GALAXY #3 Marvel '92 Variant by Larry Stroman
11.  GUARDIANS OF INFINITY #1 Marvel '92 Variant by Ron Lim
12.  HERCULES #2 Marvel '92 Variant by Mark Texeira
13.  MIGHTY THOR #2 Marvel '92 Variant by Ron Frenz
14.  MS. MARVEL #2 Marvel '92 Variant by J. Scott Campbell
15.  NEW AVENGERS #4 Marvel '92 Variant by Tom Raney
16.  NOVA #2 Marvel '92 Variant by Pasqual Ferry
17.  SCARLET WITCH #1 Marvel '92 Variant by TBD
18.  SILK #2 Marvel '92 Variant by TBD
19.  SPIDER-MAN 2099 #4 Marvel '92 Variant by Pasqual Ferry
20.  TOTALLY AWESOME HULK #1 Marvel '92 Variant by Dale Keown
21.  UNCANNY AVENGERS #3 Marvel '92 Variant by Whilce Portacio
22.  UNCANNY INHUMANS #3 Marvel '92 Variant by Whilce Portacio
23.  WEB WARRIORS #2 Marvel '92 Variant by Mark Bagley
24.  VISION #2 Marvel '92 Variant by Dale Keown