Landing at retail right alongside the standard release of Xenoblade Chronicles X will be a pretty awesome looking Special Edition.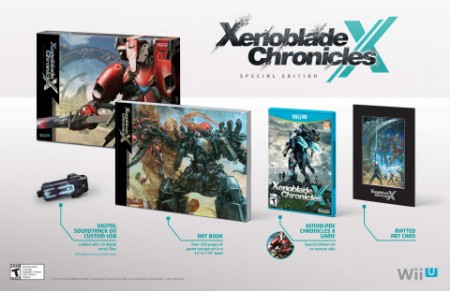 Big game releases in December are something of a rarity, as most publishers want to get their games out there and on store shelves with as much buying season left as possible. There are usually one or two per year though, and this year there's a very big one for he Wii U.
Xenoblade Chronicles X is a beast of a role-playing game, and certainly will be one of the biggest titles to hit Nintendo's console in what might be it's last solo Holiday Season (the NX is coming you know). And with that in mind, developer Monolith Soft has a little something special in store, with a Special Edition that includes some very nice holiday trimmings.
Here's what's in the box:
The Xenoblade Chronicles X game
A gorgeous book of concept art with more than 100 pages, featuring select art for the very first time
A unique USB drive modeled after the game's "Lifehold Unit," pre-loaded with a selection of 10 music tracks from the game's memorable soundtrack
A limited-edition matted 5×7 art card of a painting done for the game by illustrator Takashi Kojo
Cool stuff, and plenty to give series fans a happy holiday. The box set is exclusive to North American audiences and is pre-orderable right this very minute. It hits on December 4th, right alongside the base game, and will cost you $89.99 USD.