Nintendo's figure line is expanding to cover indie darling Shovel Knight.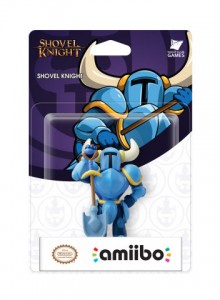 Pretty awesome news has emerged from Nintendo that a game character other than one that's featured in an in-house title will be getting an Amiibo figure. Shovel Knight, from the game of the same name, will be on the receiving end of one of the popular figures.
"It's been a great honor to work directly with Nintendo, creating a Shovel Knight amiibo that sits beside their most beloved characters," said Yacht Club Games. "We are elated to expand the world of Shovel Knight, and to keep developing unique game-play experiences on Nintendo's platforms."
The figure will be compatible with the Wii U version of Shovel Knight, and will allow you to play co-operatively with a friend when the toy is scanned in. While the Wii U edition of SK has that added functionality though, you can actually use the figure with either the Wii U or the 3DS.
Shared features between the two consoles includes "new visual enhancements, relics and abilities", so there's a good deal of stuff that you can do with the little guy. Not to mention of course, that he'll just look nifty on the old shelf. There's always that.
This release also opens up the potential for other toys, based on indie and maybe even third-party games. It'll be interesting to see just how the Amiibo line gets expanded upon in the future, but opening it up to more licensed characters certainly makes sense. The Nintendo stable is pretty vast, but it's not unlimited.