The second expansion pack heading to EA's Battlefield Hardline will bring massive heists to the game with Robbery.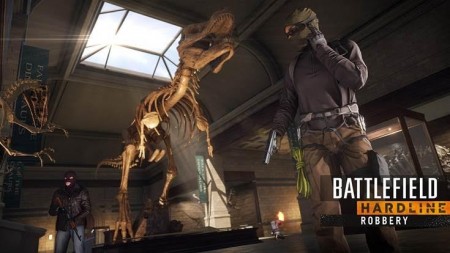 Everybody loves a good heist movie, and you'll be able to act out just that in the latest addition to Battlefield Hardline. Hot on the heels of the last pack, Criminal Activity, the aptly-named Robbery gives gamers the chance to pull off some big scores in this gritty game of cops and robbers… or, you know, stop them. I guess. There must be somebody that wants to play the foils out there.
EA and developer DICE say that you'll be doing stuff like "boosting jewels, double-crossing an international smuggling ring, or extracting a high-value piece of intel from a precinct locker room" in this one, all of which sounds pretty neat. Of course, you'll also get a bunch of new maps to play on and new weapons, gadgets, and vehicles too, as well as a new mode in Squad Heist.
There's no release date announced as of yet, but we'll keep you posted. In the meantime, check out the full list of what's included in the pack and start drawing up those plans.
Four expansive maps: The Docks, Break Pointe, Museum, and Precinct 7
New 5v5 game mode: Squad Heist
4 new weapons
2 new gadgets
2 new factional vehicles and new vehicle upgrades
New camos and vehicle paints
The Legendary Super Feature