Lots of new features are coming to the newest Skylanders game, Superchargers. Aside from the vehicular play, you'll also get to go co-op inline for the first time ever and dig into some competitive racing action.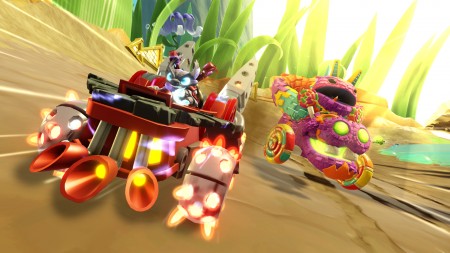 Personally, I love the Skylanders franchise, so I'm probably a little bit biased with this one, but it sounds like Superchargers is going to be bringing some genuinely new elements to the game series when it hist this Fall. Activision's tried and true, toys-to-life brand will offer both co-op and competitive online play, the latter of which fits snuggly with the whole 'vehicle' theme.
First, yes, you'll be able to play through the campaign online with your buddies. This is the same as the couch co-op that Skylanders has always had on tap, just in an online format. That's cool and all, and actually is probably something that should have been there since the first game, but it's the second mode that gets a little more attention from me.
"Skylanders fans told us they wanted to go head-to-head in online multiplayer with their friends and family, and we delivered. Skylanders SuperChargers enables gamers to race against friends all over the world and brings an exciting new expansion to the Skylanders gameplay experience," said John Coyne, senior vice president of consumer marketing, Activision Publishing, Inc.  "We continue to be firmly committed to driving Skylanders' spirit for providing originality, innovation, creativity and fun with each game."
Since Superchargers is all about modes of conveyance, there will be a competitive, online, racing mode called Racing Mode. Playable across land, sea, and air, this mode will support up to four racers in an online battle for victory in a series of time trials (three lap races).
You can expect the starter pack for Superchargers to ship with six races in total, a pair each for all three vehicle types. Voice chat will be enabled for the races too, and you can expect to see pretty much all the stuff that you'd expect to see in a kart racer included, like alternate route, power-ups, and combat. And if you'd rather battle with someone in the same room with you, you can do that too with the split-screen, offline racing, which supports two players.
And if you're looking for more, you'll be happy to know that Racing Action Packs will be on store shelves alongside the typical figures packs that you know and love. These packs will include a figure (of a Supercharger), vehicle, and villain trophy, which will unlock a pair of new tracks and modes like "SuperVillain Cup, Boss Pursuit and Mirror Cup". There are 12 villains in total, spread across three packs (4 in each one), and you can both play against and as these baddies. And much like with Trap Team last year, you'll be able to store the defeated evil-doer in the trophy and bring him or her to a friend's house for play.
Lots to like if you're a Skylanders fan, and plenty to lure you in if you're new to the franchise as well. Skylanders Superchargers lands on consoles and iOS this September the 20th.