The first arc of Bloodshot Reborn comes to a conclusion in an issue that's light on answers and poses even more questions as we head into issue #6.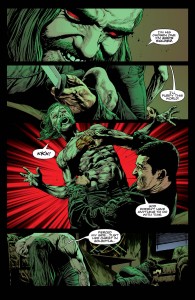 Overall, Bloodshot Reborn is a phenomenal book. And I don't mean to overstate anything here- it's great. The first arc comes to an end here in issue 4 with way more questions than I would have liked though, and not a whole heck of a lot of payoff. Somehow though, it still manages to be an enjoyable read.
First, Ray is still working his way through the guys infected with his former nanite army. He's still having flashes of Bloodshot too, like when his eyes turn blood red while he's in the midst of a battle. They're still just flashes though, as the weapon that was Bloodshot seems somewhat contained, even in the face of Ray absorbing more and more of the nanites, nanites that turned those other men into Bloodshot 'lites'.
For some reason Ray doesn't turn though, not completely anyway. I figure it's got to have something to do with the fact that Ray is better conditioned to carry the 'bots than all the rest, but I'm just guessing because there are no answers right now.
While those answers are still scarce though, there is a big  introduction in this issue. A character called Magic comes into Ray's life. I won't spoil exactly who she is and how it is that she tags along with him, but it looks like Ray's life in general is only getting more and more complicated- something that seems to be coming to a head some time soon from the way this issue leaves off.
Although the story isn't the most satisfying of conclusions to an opening arc, it's still quite well-written by Jeff Lemire. Lemire's work has been stellar on Bloodshot Reborn throughout its young run, and this issue is no exception. The characters all come across great, and the relationship (however long it lasts) between Ray and the twin 'apparitions' of Blodsquirt and the Geomancer is absolutely terrific.
The art continues to roll as well, with Mico Suayan turning in another excellently illustrated piece of this gritty action saga. As usual too, Lemire lends his talents adding Bloodsquirt into some scenes, and the difference between the two talents' styles is perfectly contrasted. Bloodsquirt really looks like a cartoon character come to 'life' and interacting with the real world. There's a scene where Ray actually chokes him and it's tons of fun. …which I just realized probably sounds weird.
Final Thoughts
Even when it's kind of a weak issue, Bloodshot Reborn is still an excellent comic and worth the time of action and superhero fans. Following Ray's trek back from being a 'normal man' to whatever it is he's becoming is fun and actually pretty thought-provoking at times.
The characters are loads of fun and the art is great once again from Mico Suayan, so if you've been reading the opening shots of Bloodshot Reborn, make sure you grab issue #4. It might not be the conclusion that you've been hoping for, bit it's still a fun ride nonetheless.