This has to be a first in the realm of video games and collector's editions. Call of Duty: Black Ops III will have a pair of special editions when it hits this Fall, one of which will come with a pretty much full-sized mini-fridge.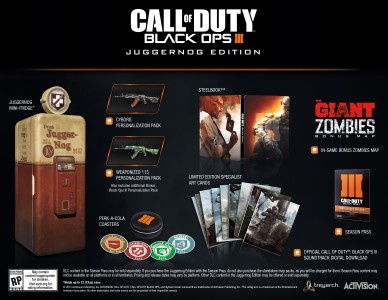 Yep, that's your big boy right there. The 'Juggernog' Edition of Call of Duty: Black Ops III is pretty loaded with extra content aside from that retro mini-fridge. In it, you get the "Season Pass and The Giant, a remake of Der Rise, one of the all-time fan favorite Treyarch Zombies maps". You also get some downloadable weaponry fir use in the game, as well as the soundtrack for the game (also downloadable), a four-pack of perk-a-cola coasters, a set of art cards, and a steenbok case. All in all, that's a pretty mean special edition, and that's not even including the mini-fridge, which is fully operational with lights and sounds from the game and is very much ready to cool a 12 pack of your favorite canned beverage.
If that's a little too much for you though (or it never comes back in stock), you can always grab the Hardened Edition, which includes everything above except the fridge, the Season Pass, and the coaster set.
Call of Duty: Black Ops III releases on consoles and the PC this November the 6th.