Ghostbusters, Marvel, Ninja Turtles, Star Trek… whatever kind of fan you are, chances are that DST will have something on display at the Con next month that you'll want to get ahold of.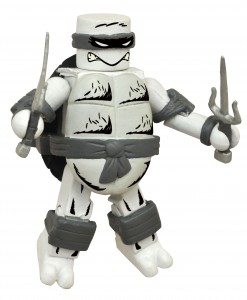 Tons 'o' stuff. Dat has action figures, Minimates, statues, a starship, and even a pizza cutter on tap for the big Con, and all of it's exclusive to the show. Some of this stuff will be only found at the Diamond Select booth, while other items can be bought at additional booths on the show floor, and a few items are pretty limited in their availability.
All of it though, is exclusive to the SDCC itself. So start packing away some cash, and scroll on down to see the full list (my pick's that black & white TMNT set).
Gotham "Roughed Up" Penguin Exclusive Action Figure – A Diamond Select Toys release! DST is kicking off their highly anticipated Gotham TV Select action figure line with this SDCC exclusive, a "roughed-up" version of Oswald Cobblepot, a.k.a. The Penguin! A common look for the frequent snitch and traitor, this battle-damaged Penguin looks like he's fresh from another power play gone wrong, and is only available at the DST booth. Figure measures approximately 7" tall with 16 points of articulation. Limited to 150 pieces. ($20.00, only at booth #2607)
Gotham Minimates Fateful Meeting Jim Gordon & Bruce Wayne 2-pack – A Diamond Select Toys release! The first season of TV's Gotham may be over, but anticipation for the fall premiere has already begun! To tide fans over, DST has created an exclusive two-pack of Bruce Wayne and Jim Gordon as they appeared on that fateful night, when they first met. Each 2-inch Minimates mini-figure features 14 points of articulation as well as interchangeable parts.  ($10.00, only at booth #2607)
Batman: The Animated Series Almost Got 'Im B&W Batman Resin Bust – A Diamond Select Toys release! In Batman's world, justice is always black and white! DST is swinging into the world of Batman: The Animated Series, and they're kicking things off with a line of resin busts! This Comic-Con exclusive black-and-white edition of their Batman bust is based on the classic episode "Almost Got 'Im," and measures approximately 6 inches tall, atop an art-deco base inspired by the show. Packaged with a certificate of authenticity in a full-color box. Limited to 1100 pieces. ($60.00, only at booth #2607)
Batman: The Animated Series Almost Got 'Im B&W Catwoman Resin Bust – A Diamond Select Toys release! Justice may be black-and-white, but Batman's relationship with Catwoman is fifty shades of grey! DST kicks off their line of resin busts based on the world of Batman: The Animated Series with this Comic-Con exclusive black-and-white edition of Catwoman, featuring the felonious femme and a feline friend, as seen in the classic episode "Almost Got 'Im"! The bust measures approximately 6 inches tall, atop an art-deco base inspired by the show. Packaged with a certificate of authenticity in a full-color box. Limited to 1100 pieces. ($60.00, only at booth #2607)
Star Trek U.S.S. Defiant NCC-1764 Starship – A Diamond Select Toys release! As seen in the classic Star Trek: The Original Series episode "The Tholian Web," the Constitution-class starship U.S.S.Defiant was caught in an interphasic rift, leading to madness and death among the crew before being drawn into another dimension. To celebrate the impending anniversary of the original series, DST will bring a limited run of this 16" model, cast in translucent green plastic to simulate the effects of interphase, to their booth at Comic-Con! Packaged in a full-color window box with a display stand. Limited to 200 pieces. ($65.00, only at booth #2607)
Batman The Animated Series Femme Fatales "Almost Got 'Im" Harley Quinn B&W PVC Statue – A Diamond Select Toys Release! DST is celebrating the Femme Fatales of Batman: The Animated Series with a line of statues, and Comic-Con kicks the line off with an exclusive variant version of Harley Quinn! Based on her appearance in the episode "Almost Got 'Im," this statue captures the Joker's partner-in-crime defacing the Bat-signal in two of her favorite colors: black and white! This 9-inch black-and-white statue is crafted from PVC plastic, and comes packaged in a full-color window box. Sculpted by Steve Varner Studios. Limited to only 4,000 pieces. ($45.00, available at booth #2607 and other retailers)
Teenage Mutant Ninja Turtles Minimates Comic-Style B&W Box Set – A Diamond Select Toys release! For Comic-Con, DST is taking the TMNT back to their comic-book roots with a four-pack of Minimates that depicts the four Turtles in their classic comic book appearances – and in glorious black-and-white! Based on the Turtles' monochromatic debut in the original Mirage Comics issues that launched a worldwide phenomenon, this four-pack includes Leonardo, Donatello, Michelangelo and Raphael, each with their signature weapons. Each 2-inch Minimates mini-figure stands 2 inches tall with 14 points of articulation, and features interchangeable parts and accessories. Packaged on a full-color blister card.  ($20.00,available at booth #2607 and other retailers)
Podcast Pals Kevin Smith Vinimate Vinyl Figure –  A Diamond Select Toys release! It's an all-new line of vinyl figures from DST!Vinimates, the first-ever Minimates-style vinyl figures based on pop-culture icons, are making their debut at Comic-Con, and who better to get Vinimated first than comic book icon Kevin Smith? A comic writer, comic-shop owner and unabashed geek, Kevin Smith will be the first static, 4-inch Vinimate in the "Podcast Pals" series of Vinimates, featuring some of the biggest celebrities SmodCo has to offer. Holding a microphone and wearing his trademark "Puck U" hockey jersey, Kevin comes packaged in a full-color window box. The Vinimates phenomenon starts here! ($10.00, available at booth #2607 and other retailers)
Ghostbusters Angry Stay Puft Metal Bottle Opener – A Diamond Select Toys release! You've got the tools, you've got the talent, but do you have a bottle opener? The Stay-Puft Marshmallow Man can open anything: churches, gateways to other dimensions, you name it. Now, this exclusive angry version of our 4-inch metal Mr. Stay-Puft will open up your favorite bottled beverage and magnetically stick to your refrigerator door! Packaged in a full-color slipcase.  ($18.00, available at booth #2607 and other retailers)
Marvel Minimates Ant-Man Movie Exclusive Box Set – A Diamond Select Toys release! The smallest hero of the summer is now Comic-Con's coolest exclusive – and he's almost actual size! This exclusive four-pack of Marvel Minimates features four new figures based on Marvel's Ant-Man, including Shrinking Ant-Man, Shrinking Yellowjacket, civilian Scott Lang and Ant-Thony the Ant! Each 2-inch Minimates mini-figure features 14 points of articulation as well as interchangeable parts and accessories! ($20.00, available at booth #2607 and other retailers)
Ghostbusters Slimed Logo Pizza Cutter – A Diamond Select Toys release! There's a pizza party at Spook Central, and the only way to make sure there's enough pizza for everybody is to slice it up with an official Ghostbusters logo pizza cutter! This exclusive slimed version will divide your New York-style pie however many ways you need it, but do it quick, before Slimer eats it all! Wheel is removable for cleaning. Packaged in a full-color window box.  ($18.00, available at booth #2607 and other retailers)