Hitting the ground running after a teasing first issue, Harrow County #2 delivers on the series' interesting premise. While questions still linger, the story progresses at a good pace and ends perfectly; satisfying, but teasing at the same time. A beautiful mix of suspense, occult, and horror, Harrow County's tale is shaping up nicely.
Continuing Emmy's coming of age tale, Cullen takes us deeper into her's and the small community's mysterious and dark history. Emmy is clearly linked to the murdered witch Hester, but how is still a mystery. The story alludes to a possible theory, but doesn't provide definitive proof. Providing only the smallest glimpse into both what has happened and what is happening, Cullen has perfected the cliff-hanger. I was delightedly frustrated by the final page.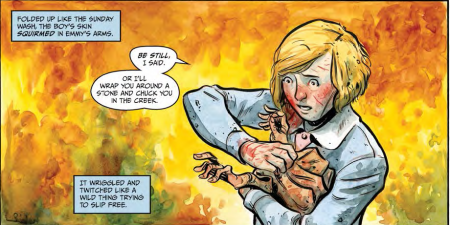 This issue brings the sense of anticipation that the first issue needed. We are still left with only a vague notion of what's happening around Emmy, but there is more intrigue and emotional investment this time. We, the readers, know as much as Emmy and are just as confused. Cullen built the right amount of suspense to capture my attention while propelling the story, and this issue showcases the potential of the series while setting the next issues up brilliantly.
The art continues to be amazing as well. Artist Tyler Crook puts amazing detail in each panel. The watercolor style adds detail even in the most austere drawings. I was occasionally distracted by the stark difference between the detailed and simple character drawings, but this hardly undermines the beautiful art of the series. The shifting otherworldly style wonderfully complements the narrative.
Final Thoughts
Harrow County #2 is creepy, mystical, macabre, beautiful, and basically a great comic. The story definitely picks up, but maintains a great deal of suspense and anticipation.
Revealing glimpses, the readers feel the same panic and confusion as the main character. Delightfully titillating, the story effortlessly shifts from revealing details to discovering more mysteries. The art matches the story's weird and mystical tone, enhancing the surreal ambiance.
Harrow County #2 builds the anticipation and enigma surrounding Emmy. It expands upon the first issue and smoothly sets up the next issue.
Follow me on Twitter: @lmrome3