Streum On's take on the classic Games Workshop tabletop title is looking dark, claustrophobic, and filled with menace. So, pretty good then!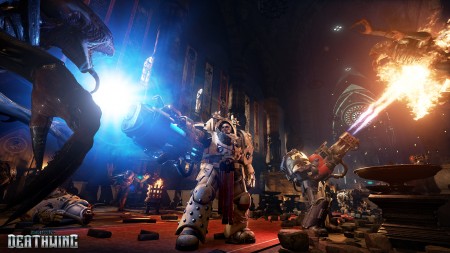 No, four screenshots isn't exactly a deluge of new looks at this game, which has been in the works for a while now, but at this point I'll take anything. As a fan of the property at the game's core, I'm more than a little amped for the chance to play a true FPS updating of the classic.
I happened to like the original Space Hulk title on the PC a lot, and the 3DO version was glorious, but the IP has struggled to find its identity in recent years, going more the over head strategy rute. That's a fact that Deathwing looks like it's shaping up to correct nicely though. You can't tell much at all from this selection of screens unfortunately, though one thing is painfully clear and that's that this is going to be one good looking title.
With single and class-based cooperative play modes, Space Hulk: Deathwing will set you against swarms of deadly Genestealers as a Librarian, which isn't nearly as boring a character as it sounds. Promise. It sounds like a strategic element is still present and accounted for here too, even though it's got that FPS moniker, as you'll be giving orders in the single player campaign and need to work as a team in the multiplayer, if you'd like to make it off the Hulk alive.
So far, so good. Space Hulk: Deathwing hits consoles and the PC some time next year, and we'll have more on the game soon as it'll be a part of publisher Focus Home Interactive's E3 showing.