You'll find a whole new lineup of digital reading apps on your favorite iOS device this week, all dedicated to the line of comics published by IDW.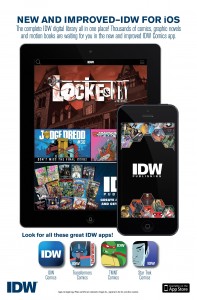 Chances are, that if you read your comics digitally, you know the name MadeFire. The company has become one of the biggest names in digital comic distribution and now can count a series of new IDW apps as a part of its family. Now in partnership, the publisher and the reader-maker have produced apps that will encompass all 3,500+ comics put out by IDW. And, unlike their competitor comiXology, with this app, you need never leave it to make a purchase or to start reading.
"The new partnership with Madefire allows us to expand to more and more devices," said Jeff Webber, IDW's VP of Digital Publishing & Business Development. "We are excited to be launching these apps now for Apple iOS, with Android and Windows 8 apps following very soon. And we aren't stopping there! Later this year, IDW comics will be coming to TV screens and console game devices too!"

"We're very proud to partner with IDW," said Ben Wolstenholme, Madefire's CEO & Co-founder. "Their world-class content is now matched with a world-class digital experience for readers. Using our Motion Book Publisher platform, IDW has control of their apps, storefront, and digital comic formats from PDF to fully immersive Motion Books. IDW is taking digital comics to the next level, and this is just the start!"
Those already using the IDW app will get a free upgrade to the new version, and any perviously purchased comics across the old IDW app, the MadeFire app, or even the comiXology app, will transfer to the new edition with a synch. Synching things up will only a take a few steps too, which you can read about here, and you'll be off and running.
As for the complete and current lineup of what's available; you can snag dedicated apps for TRANSFORMERS, STAR TREK, and TMNT. Though if your tastes are a little broader and can't be confined to just one series, you can always download the overall IDW app, which will give you access to buy the complete library.