Harrow County #1 takes the reader down a dark and twisted path to a small town with a bad history. A beautifully dark, illustrated comic that brings to life the kind of story told around camp fires.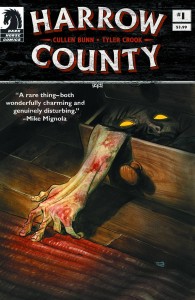 Cullen Bunn barely teases at the larger grim story of Emmy, the main protaganist, in the first issue, setting the general tone and direction. Harrow County's art style is hauntingly beautiful; Tyler Crook has created stark, but detailed imagery that complements the story perfectly. Harrow County #1 establishes a strong beginning to a gruesome comic series despite the brief narrative in the first issue.
Every town has their secrets, some darker than others. And Harrow County has a terrible secret: the townspeople had killed her even after she helped them so much. For a while, the citizens turned a blind eye to the workings of Hester, local witch, because she helped them with her magic. Yet, everyone has their limits and her dark arts finally pushed the bounds of what could be forgiven. As she took her dying breath, she told them she'd come back and seek her revenge. Clearly, the time for revenge is now.
The story opens with the witch's death to set the stage for Emmy, a young girl nearing her eighteenth birthday and clearly the revenge mentioned. Secluded on a farm with only her father, Emmy is like most young adults, dreaming about her future and wanting more than her current life. Except, she sees dead people. Seriously. It appears that Emmy is more than a simple girl.
Bunn crafts a wonderfully spooky and captivating tale that ends a little too soon. The opening of Harrow County is so amazing that it almost makes up for this first issue ending in a slightly awkward place. The story is brilliant though, and I look forward to future issues; however, I've got to reiterate that the story ended before it truly began. Perhaps Bunn wanted to leave readers wanting more; yet, I found myself asking, 'This is it?'
There is obvious rich backstory to Harrow County, as evidenced by the last page of the comic, but the brief book lacked impact because it didn't directly relate to the main story. Nevertheless, future issues may hopefully satiate my curiosity about the dark connection between Emmy and Hester.
Crook's art is one of the highlights of Harrow County. The watercolor palette is beautiful. The blending and shifting colors shapes a surreal world, contrasting with the simple yet detailed linework. It mirrors the story in that there is more to the town than first meets the eye. Crook doesn't rely on just dark colors either; his variety of color use bolsters the story's emotional intensity. The art and design allude to the greater struggle within the tale.
Final Thoughts
There is true potential in Harrow County and future issues might capitalize on it, but this one felt short. Despite the abrupt ending though, the story is worth getting into, at least for future issues. The art alone is worth checking out Harrow County.
Beautiful and creepy, the comic veers into a new territory. A different story that is interesting complemented by a unique art style, Harrow County #1 fails only by not delivering more. I'll be on the look out for future issues to see if my interest stays piqued.