DC Collectibles' newest incarnation of Batman is one that Arkham Knight fans won't want to miss out on.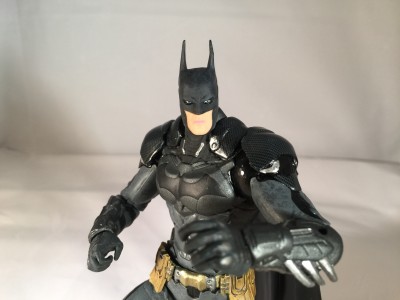 Easily one of the most hotly anticipated games heading to retail shelves and download services this Spring/Summer, Batman: Arkham Knight caps off the amazing trilogy of games from developer Rocksteady and Warner Bros Interactive Entertainment. Following up on the events of Arkham City, Arkham Knight finds Batman's Gotham under siege by the mysterious title character, and bedeviled by a cadre of his greatest foes who are looking for one thing- his complete destruction.
Fortunately, The Dark Knight has his usual assortment of gadgets and weaponry at his side, along with the newest addition to the series, a drivable Batmobile. While you won't find the famed car included in this new series of action figures from DC Collectibles, you will find a few of the Batman's signature 'toys' and one very impressive figure.
The figure is incredibly faithful to the game, at least what we've seen of it thus far, which features a new and improved set of armor for Batman. It's a different suit than was featured in either of the previous Arkham titles and has a streamlined look that still manages to look fortified against attack. As you can see from the image above too, the character also still maintains that classic yellow utility belt and the black bat-symbol on his chest. Both elements are iconically Batman and look great on the toy.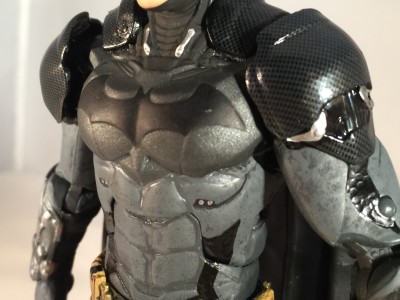 Black and grey are the tones used throughout this figure, which is right in line with the game (and comics as well), and there's some excellent detailing and paint application happening. Starting with the sculpt though, it's terrific and you can plainly see all the little fixtures and attach points for the individual armor plates.
Gentle Giant has done a flat-out great job with adding texture to elements of the suit that you normally might not associate with the most interesting of features . This version of the costume has armored shoulder and neck plating that has a really cool spotted effect to it. Likewise, the washes across the grey portions of the suit add some excellent dimension and realism to something that easily could have been flat and lifeless. I particularly like the belt too, in the way that the pouches actually look like they're usable, like they could hold equipment.
There is one down side to the paint app, and that's Batman's face. While the eyes are excellent (nice and piercing) and the skin tone is fittingly pale (which definitely works for nocturnal Bruce Wayne), it looks as though this figures was originally intended to have some stubble on his chin, and that's completely lacking in the finished product. The back of the box shows a more scruffy appearance for Bats, which would have added a lot I think to the look. Again, the final toy isn't bad looking at all, but it would have been so much cooler to have had a little five o'clock shadow on him.
As for articulation, I don't have much in the way of negatives for that. Batman's elbows and knees are double-jointed and work perfectly, and his shoulders and hips each have ball-joints. The shoulders stuck a little bit fresh from the box, but loosened up right away and gave no signs of being in danger of breaking.
The wrist joints have a nice range of motion on their hinges and swivels, and the waist also swivels, but not all the way to the left or right, thanks to the belt's sculpt hindering it slightly. The twist is accompanied by an ab crunch though, that stuck in a major way and had to be forced loose. Once it was in motion though, it opened up a whole new range of motion for the figure and worked great with a pretty generous bend.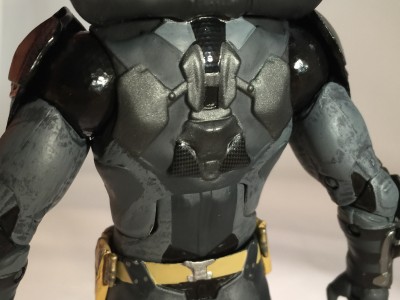 There's also a ball joint at the neck, but the range of motion here is somewhat limited. Batman can look back and forth, as well as down pretty easily. Up though, isn't something that he can really accomplish to all that great of a degree. Not awful, but not great either. Though, just thinking about it now, I can't actually name too many action figures that have a great ability to look to the heavens. The feet on this guy though, are another story.
With rocker joints that work beautifully, along with a smooth up and down motion, the ankles on this figure are really excellently done. They move easily, but can keep Batman in just about any fighting stance that you'd like to throw him into.
For some stances though, you might need the support of the cape, which is made of a flexible plastic material and bends well while still holding up the figure in some poses. Of course, it probably goes without saying, but I'd have preferred to have seen a cloth cape or maybe even something wired to really make some  poses pop. Even so though, I wouldn't consider this a minus because, well, this is kind of how capes in general are done with action figures. You don't really see anything like what I mentioned above outside of deluxe figures, and even then it's rare.
I would definitely have liked to have seen some bicep and/or forearm swivels here though. It's true that the sculpting team at Gentle Giant has hit a lot of high notes with the posability on this figure, but having that little extra freedom of movement would have added some even nicer options. As it is though, I can't complain too much.
Before I close things out, I should also mention the accessories. There aren't a ton of them, but they do have the bases covered and everything looks great. There's one extra hand included for holding the line-launcher gun, which fits perfectly in the grip and looks great. There's also a batarang, which is a basic add-on and one that you'd expect Batman to be packed with. It does look particularly neat though and has some nice detailing from the game.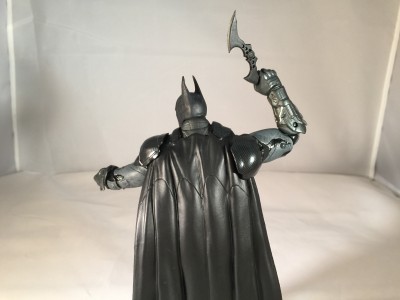 Final Thoughts
The Batman: Arkham Knight version of the character looks terrific and makes for a really great figure, there's no way around that. The design is excellent, well adapted to figure form, and pretty easily one of the best looking iterations of the Batman to come to market in the last few years.
Posability is really top notch too, even with the neck issues and the lack of some extra arm articulation. And I have to mention that paint application again because it's just so great. Bottom line, he looks freaking awesome on the shelf and can be slotted into a bunch of cool poses, battling the series' villains, which we'll have reviews throughout this week.
If you're a Batman fan, don't miss out on this one when it hits retail on May 1st.