Yes, Lando Calrissian is getting his own book from Marvel Comics, as a part of their growing Star Wars universe of titles.
"Is Lando Calrissian the coolest character in all of Star Wars? Depends on who you ask, probably. But if you askme, the answer is yes, and I plan to prove it with this story," says series writer Charles Soule.

Before he joined the rebellion, before he oversaw mining operations on Bespin – he was just Lando. Making his way in the galaxy and getting by on good looks, charm, and an ace up his sleeve (sometimes literally). With his cyborg aide Lobot at his side, Lando has plans to steal one of the galaxy's most valuable ships. Yet even with his swindles and unparalleled swagger – has he bitten off more than he can chew?

"Before Cloud City, before his glorious Death Star run," continues Soule, "Lando Calrissian was just a man trying to make his way through an uncaring universe determined not to recognize that he was undeniably the coolest man in the galaxy. But Lando's got a plan to change all that… and it starts with the deal of a lifetime."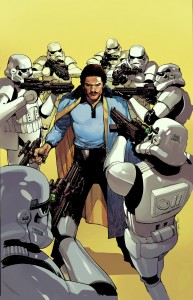 Honestly, who doesn't like Lando? The guy went from likable to sellout and back in the course of one movie (Empire Strikes Back) and then became one of the biggest heroes of the rebellion in Return of the Jedi. He was also brought to life by Billy Dee Wiliams, in a role that the actor is still best known for.
As periphery characters go in the fiction, if you can consider him that and not a main character, then it's kind of a no-brainer that he'd be joining Princess Leia and Darth Vader as a star of his own book. I like the idea that this one takes place before we actually met the character in the movies too, as there's a ton that could be done with him given his checkered past. Hopefully, we'll see fellow outlaw Han Solo in this one at some point as well.
Lando #1 hits the racks this July, as the next expansion of the line, from Soule and artist Alex Maleev.