Tamashii Nations and Bluefin have some of the best-looking toys out there right now. Chances are that you'll be into something that they're offering, whether it's their new Injustice series, their awesome re-imaginings of Star Wars, or their incredible Super Mario line.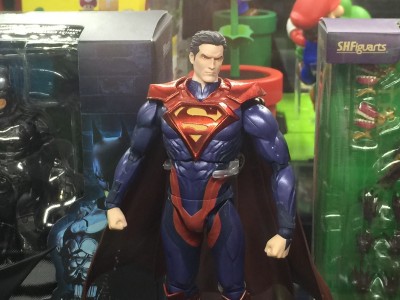 SH Figures was a brand that was almost completely off my radar till I started buying their awesome Alien and Predator figures. With massive amounts of detail and some of the best articulation in the business, they're an impressive sight on the old collection shelf. In a similar vein and no less impressive, although a completely different license, are some of the newest items from the line.
Lets start with Injustice: Gods Among Us, because oh my is this series looking great. When you think about it, it's kind of strange that no one has really run with the ball when it comes to toys from the popular fighting game from NetherRealm and Warner Bros Interactive Entertainment. Sure there's a line of mini-figures from DC Direct, but that's about it. No six-inchers, well, till now anyway.
This line is a stunner with some of the major players from the game present in the first wave. Superman, Batman, Joker, Harley Quinn- all look great and sport the sculpting and poseability that  you'd expect to see from SH Figuarts. Batman and Joker are available right now and Superman should hit retail and online storefronts this August.
Also shown off at the booth were the super-cool reimaginings of Star Wars' famous Stormtroopers and Darth Vader himself. Cast as Samurai warriors from ancient Japan, these remakes are redone right down to their weapons, with blasters that are made of wood and steel and a lightsaber that looks more like a blood-red katana than a laser-blade. If you're looking for a unique take on the mythos to plunk down on your desktop or shelf, this is it. Expect them some time this Summer.
Last, but certainly not least (he did have a whole year to himself you know) is Luigi from the Super Mario series of figures. Weege has the same high-level of articulation as his bro and comes complete with some accessories that reflect his adventures in the Mushroom Kingdom in the beyond-famed series of platformers from Nintendo. There's also an additional accessory pack (just like the one that saw release alongside Mario) that includes a few more world elements like the Piranha Plant. Needless to say, if you're a Super Mario fanboy (like me) then you need these in your collection.
They're easily the best Mario-themed figures to ever see release and truly bring something to the market that has never been seen before. Luigi is available right now, as is the new accessory pack, and the Bros' pal Yoshi is coming some time soon as well (probably June).