Life in the clink? Get ready to win your own personal prison-break in The Escapist for Xbox One.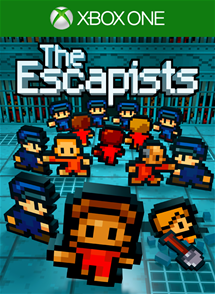 If you've read our review of The Escapists, then you already know that we thought it was good fun and shockingly deep. Yes the look may be nostalgically simple, but this game hides a wide-open nature under that guise that sees gamers crafting their escape from jail in a huge amount of ways. Free thought in a game about prison? Yeah, it's kind of trippy when you think about it.
And now you can snag a free copy of your very own for the Xbox One thanks to developers Team17 and Mouldy Toof, and your pals right here at Brutal Gamer. Any time from now till this coming Friday at 11:59pm Eastern, you'll be able to leave a comment right here to enter. One comment a day is good for one entry (any more and we won't count 'em) and you'll also be able to enter via Facebook and Twitter, just like and follow us for details.
One winner will be chosen at random and we'll get in touch via email or instant message to deliver your prize no later than this coming Monday (March 2nd). Remember, this is for an Xbox One copy of the game, but the game is available on the PC as well, if you're thinking about buying a copy.
Good luck!