Marvel's Secret Wars get a lot more interesting with the revelation that the Infinity Stones (*ahem*) are on Battleworld and that Thanos is after them once again. But what happens when he runs into the Nova Corps?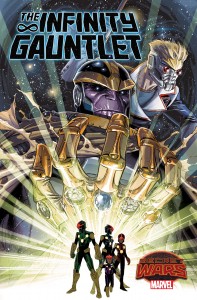 Although the premise and backstory of Infinity Gauntlet #1 is certainly massively cosmic in scale, the actual narrative is as small as you could imagine. It involves not a Mad Titan or a Corps of galactic protectors, but a small family of survivors, looking to simply make it through the day in one of the last cities in the multiverse. And then of course, there's that stone they found…
Welcome to New Xandar, in the southern hemisphere of Battleworld. Once a beautiful city-state, an invasion from a neighboring zone has left it a barren post-apocalytpic mess. In this hellish wasteland,Anwen Bakian and her family struggle and claw to survive. Mom left years ago to join the Nova Force, and never came back. Now it's just her, her dad, sister and grandfather – all alone in a realm dominated by giant killer insects.
Marvel has some big ideas that'll be coming into play here in this fragment of the total Secret Wars story, and they're pretty excited to explore them. Most of those thoughts are the brainchildren of incoming writers Gerry Duggan and Dustin Weaver.
"Editor Nick Lowe had discussed a family of Novas, and Dustin had some pretty spectacular ideas on the way in the door," says Gerry Duggan in an interview with Marvel.com. "It's a unique opportunity to showcase a family of survivors dealing with an alien invasion that was devastatingly successful."

"If you want to see the most imaginative story and story-telling in comics," says Senior Editor Nick Lowe, "you better pick up INFINITY GAUNTLET. "
That's some bi talk right there, but then again, this is a book that carries the 'Infinity Gauntlet' title. Infinity Gauntlet #1 arrives from Duggan, and co-writer and artist Weaver, this coming May.