Mike Mignola's Hellboy is 21 this year so I guess a celebratory drink kind of is in order. And what better than one named after his mighty Right Hand of Doom.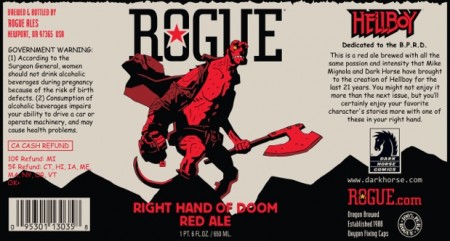 It's actually hard to believe that Hellboy has been around for over two decades, but Mike Mignola's creation has been published, in one form or another, by Dark Horse Comics for 21 years now. Just about as popular now as the Hellboy universe has ever been, the character and the B.P.R.D. are being celebrated by the Rogue Ales company with their newest beer Right Hand of Doom Red Ale.
It's a brew that both Mignola and Rogue Ales president Brett Joyce are very happy about:
"When Dark Horse Comics published the first Hellboy story 21 years ago, I never thought there'd be a Hellboy beer," said Mignola. "But I really can't imagine a better time for Rogue to introduce the Right Hand of Doom beer. If Hellboy was real I guess he'd finally be able to buy me a beer."

"Hellboy has appeared in graphic novels and comic books, prose novels, two animated features, two live action films, toy lines and all manner of merchandise,," said Mike Richardson, President of Dark Horse. "Rogue Ales approached us with the idea of creating a heavy-handed, supernatural red ale and we loved the idea of two independent, Portland based companies coming together to create something new that would be both fun for fans and worthy of the Mike Mignola's creative legacy."

"This beer is dedicated to the B.P.R.D," said Brett Joyce, President of Rogue Ales. "RIGHT HAND OF DOOMis brewed with all the same passion and intensity that Mike Mignola and Dark Horse have brought to Hellboy for the past 21 years."
The bottles here are no toss-aways either. As you can see in the image above, they feature art by Mignola himself and a cool little bit about the 21st anniversary of Hellboy. If you're looking to get a six or a solo bottle of the drink, you'll have to head online.
Available for the first time at Portland, Oregon's Things From Another World Comics shop, Right Hand of Doom Red Ale will make its premier at a special event on February 20th. Mike Mignola will be in the house for the introduction and will be signing along with modern comic book luminaries Matt Kindt, Brian Wood, and Eric Powell. That's a pretty awesome intro for anything, let alone a beer. Then again, it's not every day that a beer has Hellboy on the label.
As for the nationwide debut of the new ale, the rest of the country (if you're over 21) will have to log onto Rogue Ale's website to order some up. Can't wait? They're actually taking pre-orders as well, and those are open right now.