New sets in new stores mark the kick off of the Walking Dead building toy series for 2015.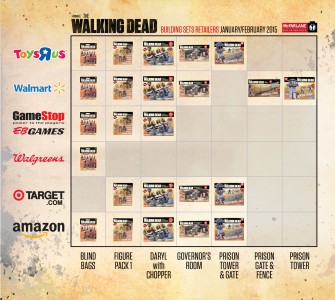 So as you can see form the handy-dandy infographic above, The Walking Dead building sets from McFarlane are going to be a lot more common (and easier to find at retail) this year. In 2014, which was the inaugural year for the toys, you could only get them at Toys R Us', but you'll be able to pick up a few sets at no fewer than 6 retail locations (and presumably, on the net) here in '15, including GameStop. Well, you'll be able to pick up a few everywhere except for Walgreens, as they'll only be carrying the figure set. A fact which fits for them if you've ever shopped a Walgreens' toy section.
Also of note is that Wal-Mart will have some interesting exclusives on their shelves. Both the Prison Gate and Fence and the Prison Tower sets will be heading to Wally World and Wally World alone. Now, it should also be mentioned that the Prison Tower and Gate set, which is the biggest set in the line, will be sold almost everywhere. That's not this.
The two sets that'll be exclusive to Wal-Mart are kind of like split versions of the main set that'll be available elsewhere, and there's a reason for that. As company boss Todd McFarlane told us at Comic Con last year, you'll be able to essentially assemble a massive prison, by picking and choosing between towers and fences, for your figures to make an awesome diorama that could be the centerpiece of your collection.
Both Wal-Mart sets will also include a few exclusive figures, so chances are you'll want 'em even if you're not looking to make a big zompocalypse splash on your shelves.