A companion game of sorts to Civilization: Beyond Earth, Sid Meier's Starships will take turn-based strategy gaming into the great void of space.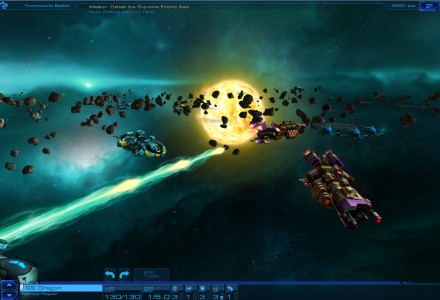 Due out early this year for the PC, Starships sets players in command of a fleet of ships out to assist an alien civilization in distress and being attacked by another. According to GameSpot, who broke the news about the game, you'll also be in charge of creating a fledgling galactic federation of worlds. So there's something of a Star Control element in there too.
More than just focusing on diplomacy and exploration though, Starships will have a big combat element in place and there'll be plenty of ship-to-ship fighting going on as you wage turn-based warfare in the stars.
As for why this is a 'companion' title for the recently released Civilization: Beyond Earth, Sid Meier explained to GameSpot:
"When designing Starships, I was intrigued by the idea of exploring the next chapter in the story of Civilization: Beyond Earth," Meier said. "What happens after we colonize our new home and eventually build starships to take to the stars? What has become of our long-lost brothers and sisters from the planet Earth?"

"My goal was to create an experience that focuses on starship design and combat within a universe filled with interstellar adventure, diplomacy, and exploration."
No word on when we might be able to embark on some of those adventures, but Starships is currently on track for a release (presumably) some time in the next few months and will be hitting the PC, Mac, and iPad.
Source: GameSpot